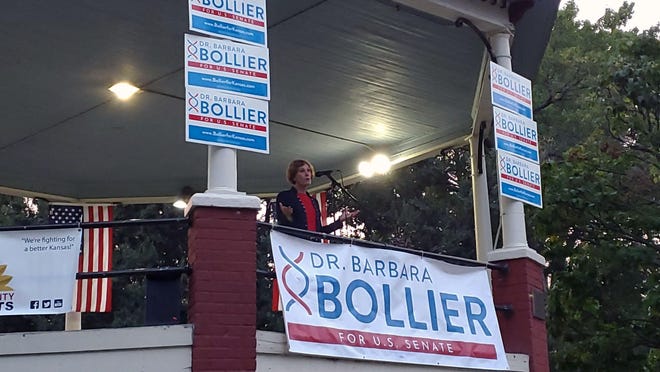 LAWRENCE — The change in the country's political landscape that took place last Friday with the death of Supreme Court Justice Ruth Bader Ginsburg was visible thousands of miles away.
Amid the lush gardens and the band gazebo, as dozens of supporters of state Sen. Barbara Bollier, the Democratic nominee for U.S. Senate, mingled from a social distance, Ginsburg's death was a chief topic of conversation.
For Colleen Janssen, the moment wasn't just on her mind — it was on her mask, as well.
The black face coverings with lace trim had the letters RBG embossed, a reference to the justice's nickname in the vein of hip hop megastar The Notorious B.I.G.
Janssen had even mailed a few of the masks, which she made herself, to Ginsburg at the beginning of the pandemic, with Ginsburg's office replying that they were the most stylish in the 87-year-old's collection.