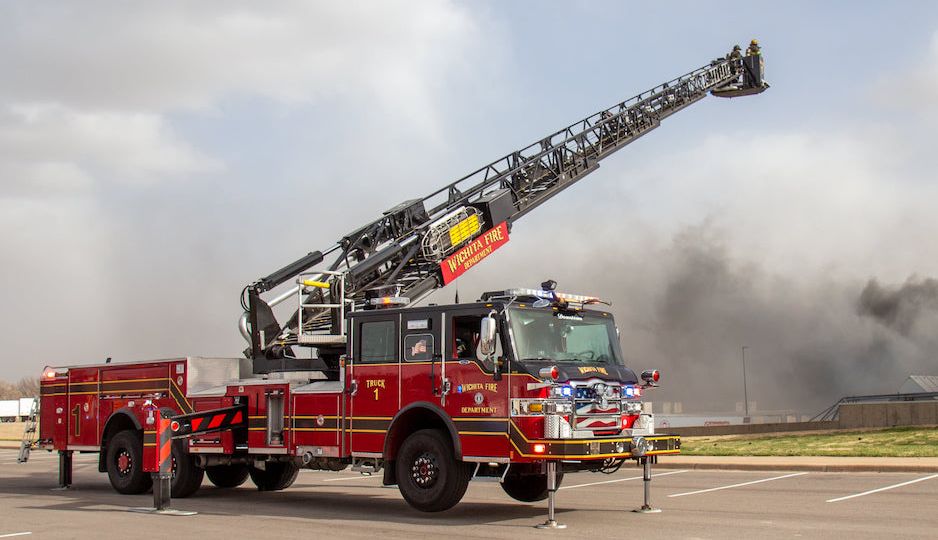 Wichita, KANSAS – According to the Wichita Fire Department, this incident occurred right after 5 p.m. Wednesday.
It happened at 2111 E. 37th N.
Wichita Fire Department crews responded to a reported building fire with Hazardous Materials.
The responding crews discovered that the involved structure was the Coleman Company.
The fire crews saw heavy smoke and flames showing from the east side loading docks of a very large industrial building.
There were numerous explosions from involved semi-trailers with aluminum propane canisters being launched in the air several hundred feet.
Due to the exploding propane canisters, several grass fires were ignited near the structure as well as several hundred feet to the southeast.
There were over 900 feet of fire attack lines that had to be extended into the structure to reach the seat of the fire.
Crews initiated fire attack while additional crews performed a search, established a water supply, and initiated ventilation needs.
The fire was later declared under control, however a significant amount of smoke remained inside.
According to the officials, two employees obtained two dry chemical fire extinguishers in an attempt to extinguish the fire.
The cause of the fire and explosions was determined to be one or more of the propane cylinders being inadvertently punctured while being loaded into the semi-trailer.