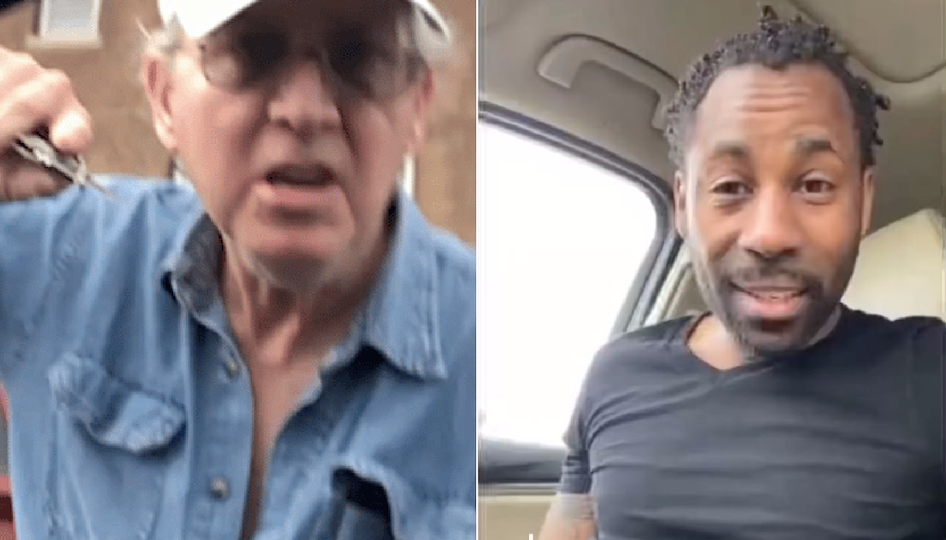 The 60-year-old White man was caught on video yelling the 'N-word' at a Black man and his son before he tried to stab them with a box cutter. The elderly white man, who claimed to be a trooper, unleashed the racial attack on the Black man and his son reportedly because the victim let an oncoming car make a left-hand turn. The man could be heard yelling racial slurs the entire time. The victim recorded the racist attack and posted the video on his social media profile.
The 60-year-old man from New York, William Ryan, has been accused of a hate crime after going on a racist tirade during an apparent road rage incident that was caught on tape, the New York Post reports. During the confrontation, the white man falsely claimed he was an off-duty trooper as he yelled the 'N-word' before he attacked Robert Mclymore and his son, who are black, with a box cutter.
"I'm a cop you as-—, I'm an off-duty trooper you f—-g stumpy 'N-word. You're always a 'N-word', you'll never be white, you'll never be white." the white man can be heard saying. The victim, who is a police lieutenant and pastor, recorded the confrontation and posted the video on his social media profile with the following caption: "This man had road rage and called us a 'N-word' because I let a car in front of me. I knew it was going to be an event as soon as I pulled into the Chinese restaurant and he followed us. He told us we will never be white and he's an off duty Trooper (Which I do not believe.) He pulled out a knife and threatened us. Then he went to Broadway Liquor and did the same thing to a Spanish couple. This is the world we live in."
During an interview with CBS New York, the victim reportedly said: "Nobody would believe me that this happened to me. Nobody. I didn't believe it myself."
On Tuesday, the 60-year-old man was charged with second-degree menacing as a hate crime, which is a felony. He's also accused of menacing the victim with a knife. The New York State police released a statement and said that the 60-year-old suspect was not a trooper with them or connected to any police agency.
Police chief Anthony Geraci released the following statement: "There is no place for hate in our community. Mr. Ryan will be held accountable for his criminal actions and deplorable speech. His racist threats were not only harmful to the victim in this case, but echoes deep within our City."
According to Mclymore, he was driving to church when he let an oncoming car make a left-hand turn, which reportedly made Ryan angry.
Durign an interview with CBS New York, Mclymore reportedly said: "I would say to him, number one, because I'm a spiritual person, I forgive you. But number two, you have to face the consequences for your actions and I hope that you get the help that you need."
Featured Image – William Ryan | Robert Mclymore