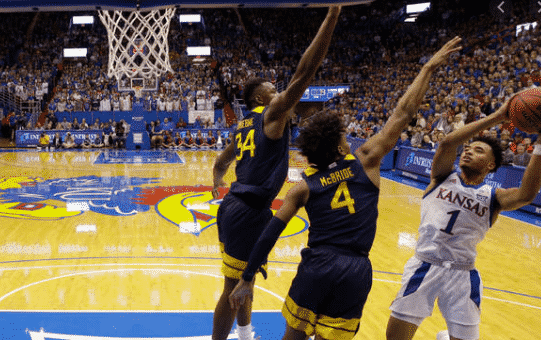 Lawrence, Kan. – West Virginia has never been able to beat Kansas in Lawrence under Bob Huggins.  The Mountaineers have been close several times, but they've never been able to leave Kansas with a win and are 0-8 since West Virginia joined the Big 12 Conference.
Tonight, that streak ends.
West Virginia is a bigger, better, deeper team than Kansas this season.  Kansas is always one of the best-coached teams in college basketball and Allen Fieldhouse is traditionally one of the most challenging places to win in the nation.
However, 2020 is different.  The game will be played in front of a maximum 2,500 fans and "The Phog" will not be buzzing like it typically is.  Bob Huggins said that even though it won't be the same environment as in the past, it will still be loud.
"I know they pump noise in there, but it seemed pretty loud to me in there watching some of their games on TV," Huggins said.
With that said, this is an absolute perfect opportunity for West Virginia to finally break the streak and get Bob Huggins the win in Kansas that he so desperately desires.
Beating Kansas at Kansas would not only put the Mountaineers in the top five nationally, it would also serve as a notice that West Virginia can beat any team anywhere on any given night.
West Virginia has played to their competition so far this season.  Against Gonzaga and Richmond, the two best teams that the Mountaineers have played this season, West Virginia played like a top five team.  When they've played against lesser competition, the Mountaineers have struggled.
There's every indication that this trend will continue and that West Virginia will be ready to compete against one of the most talented teams in the nation.  The Big 12 Conference Championship goes through Lawrence, Kansas, but tonight, West Virginia can change that.
Tonight, the streak ends and West Virginia becomes the team to beat in the Big 12 Conference.