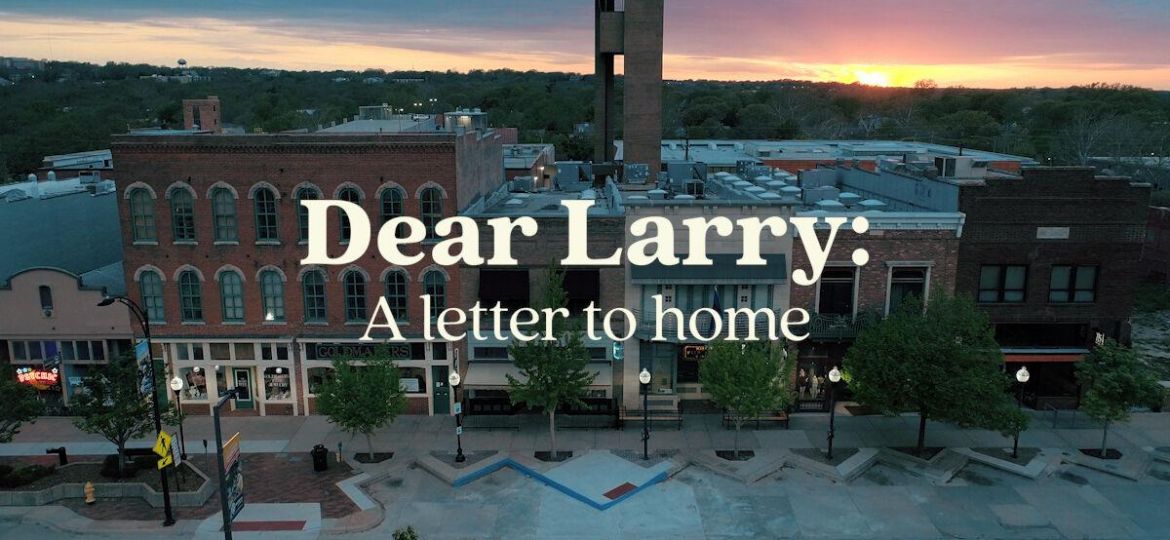 LAWRENCE, Kan. – Part of it is weird, but when does this get crazy?" Marc Havener says, as he remembers how many late evenings he spent waiting in an empty Massachusetts Street for the perfect shot — right when the sun pulls back to give off its best light. The months of work, personal sacrifice and patience he felt would all be worth it for the story he wanted to tell.
Havener, a University of Kansas film school graduate, came back to Lawrence and spent six months creating "Dear Larry: A Letter to Home." It's a short film that documented his hometown's response during the opening months of the COVID-19 pandemic.
Havener's film explores the many people and organizations who stepped up to help the community during its time of crisis. He filmed it all on his own from the beginning of March to July with three cameras, including a drone, and terabytes of unused footage.
Havener says he had been directing films ever since he picked up his dad's camera. He studied his craft throughout high school and college, and graduated from KU with an intent to work as an assistant director.
He worked in Hollywood for 10 years on films like "Wedding Crashers" and "Pirates of The Caribbean," big movies with big personalities and amazing experiences, he says.
But his creative spirit wasn't fully satisfied and the assistant director position wasn't the next step in being a full-time director, so he decided to take a shift in his career path.
For Havener, March 17 was the day everything changed. Once businesses shut down and the stay-at-home order was announced, Havener says that life seemed to stop and the fear of the unknown started to grip him.
He says he didn't know if he should be out filming or working, but he used creativity as an outlet to keep the fear at bay.
Havener started with filming empty streets and Lawrence life rendered frozen by the fear of the pandemic, but he soon found a story of how the community tried to put itself back together.
His goal was to use his skillset to make something that inspired a sense of urgency and desire to keep his town strong during difficult times, but then he looked around and saw people already doing it.
"Instead of looking at schools and saying, 'What did you do?' It's like, look what you've done," Havener says.
He realized that the central aim of his film would be to highlight the workers he felt weren't being celebrated, those he believed were also on the front lines of the pandemic.
Restaurant workers, school teachers and organization leaders became integral characters in his story that he says were "central to a thriving community that provide the experiences and people to this place we call home."
Instead of focusing on negative aspects of the pandemic, Havener's point of view was to bring out some of the positives that come from a community banding together for each other during a crisis.
"We could tell the stories of 'Oh man, the students aren't wearing their masks,' and is that what we want to remember?" Havener says. "Is that what we're going to grow stronger from, or do we tell the story of hope and inspiration and lay this foundation for something that's worth building on fighting for?"
Havener says in the days since the film's release and with over 23,000 views on YouTube, the response has been overwhelmingly positive.
"The messages I read online, I was in tears," he says. "It seems to be touching people more than I can imagine."
During its live Facebook premiere, the film received comments of gratitude from people describing how much the film meant to them.
The online messages thanked him for covering the crisis and giving them something to feel proud of.
"What a wonderful reflection on such a challenging time in this great community, well done! Thank you," reads one of the Facebook comments from Cindy Johnson, a Lawrence community member.
He says the positive reception also found its way into the real world, where he's been stopped on the street multiple times by complete strangers who loved how the film portrayed the community.
Havener says that he is proud to be able to tell the story through the perspective he had envisioned with the people he wanted to feature.
"I think I'm so overwhelmed by the incredible response it's receiving," Havener says. "I think the power of storytellers and art is something that we always use to build our hope and humanity on; they're reminders of what we're fighting for."
Clarice Patchen, 75, has lived in Lawrence her entire life. She says she's never experienced an event like this, but the film gave her hope for a brighter future.
"It was really inspiring to watch all the people getting back together and how we're all stronger together," Patchen says. "It's going to be okay, though. We're going to make it through this, we always do."