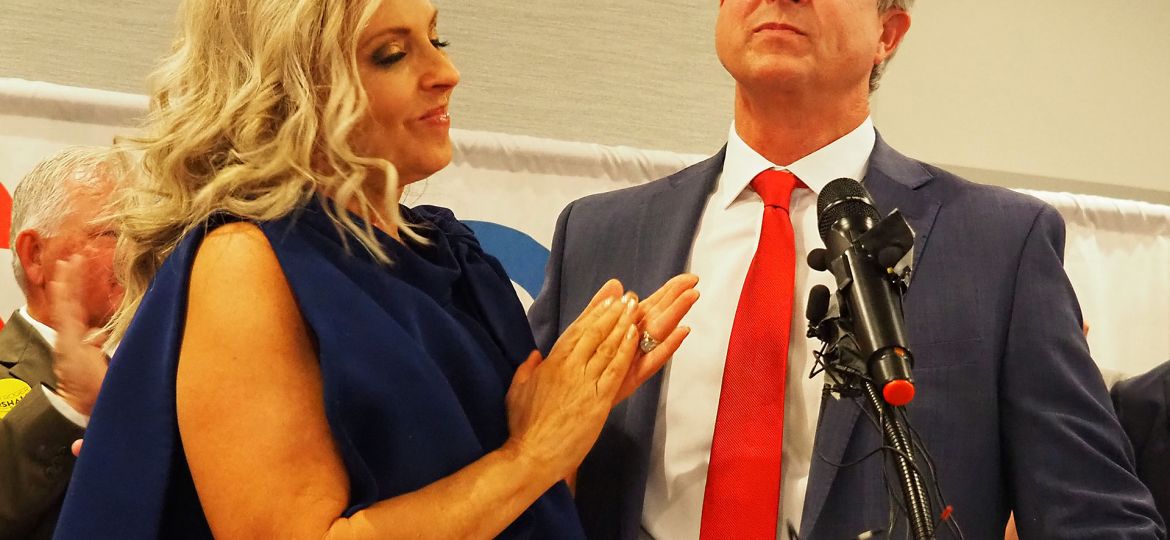 LAWRENCE, Kan. – Seven women elected to the Kansas House in November requested Monday that fellow Democratic Rep.-elect Aaron Coleman renounce his campaign victory due to troubling commentary against Gov. Laura Kelly and allegations of violent behavior against women stretching to 2014.Coleman narrowly prevailed in the August primary against seven-term incumbent Democrat Stan Frownfelter before easily winning the general election against write-in candidates in the 37th District of Kansas City, Kansas. During the campaign, he had been accused of bullying women and engaging in revenge porn. After the November election, he posted to Twitter that he would "call a hit" on the governor.
"We believe in second chances. We believe that people can change," said Leawood Rep.-elect Mari-Lynn Poskin. "However, actions in recent weeks, combined with his history of violence, continuously demonstrate that he is unfit to serve."
At least four of the seven Democrats making the public appeal to Coleman are survivors of sexual assault, said Rep.-elect Jennifer Day, of Overland Park.
Kansas Democrats are expected to file a complaint with the Kansas House in an attempt to remove Coleman from office, but that process requires consent of two-thirds of the 125-member chamber. Democrats cannot block Coleman from serving the next two years in the House without assistance of Republican lawmakers, but there is skepticism the GOP wants to rid the Democratic caucus of their problem. If he were to resign or be ousted, Democrats in the district would be responsible for selecting a replacement.
Coleman, 20, didn't immediately respond to a request for comment. In August, he contemplated dropping out of the general election but stayed in the race. He said political supporters recommended that he continue the campaign because "all of us have sinned."
Grief has piled on grief in the nine months the coronavirus has gripped the United States and killed more than 300,000 people.
Incoming House Democrats Stephanie Byers, of Wichita; Linda Featherston, of Overland Park; Christina Haswood, of Lawrence; Jo Ella Hoye, of Lenexa; Lindsay Vaughn, of Overland Park; Day; and Poskin issued the plea for Coleman to step aside. Newly elected House and Senate members are scheduled to be sworn into office in January when the 2021 legislative session begins.
The group challenging Coleman pointed to anti-Kelly rhetoric by Coleman in the public tweet following the Nov. 3 election, allegations of violence against one of his former girlfriends last year and "numerous documented accounts of violence since 2014."
In terms of the threat against the governor, Coleman's tweet admonished readers not to underestimate him.
"I'm not playing around," he wrote. "People will realize one day when I call a hit out on you it's real."
Coleman recently had an anti-stalking order issued against him for allegedly harassing the campaign manager of Frownfelter, who lost to Coleman in both the primary and general elections.
Featherston said Coleman's conduct was "unacceptable and dangerous, especially during a time when elected officials across the country are facing increased threats of violence. Leaders must not be complicit." Byers said Coleman should step aside and take the opportunity to get help and guidance.
"We hope that our colleagues will join us in holding elected officials accountable for their actions," Vaughn said. "We are obliged to hold ourselves to a higher standard. Prioritizing the safety of legislators, employees and visitors in the Capitol is imperative."
Haswood said a component of a progressive political platform was respect for equality and dignity of people, and "we are sick and tired of pepole making excuses for bad behavior."
"We will be relentless in the pursuit of a safer Kansas for women and families experiencing domestic violence and abuse," Hoye said.
House Minority Leader Tom Sawyer, a Wichita Democrat, said House Democratic leadership viewed Coleman as unfit for office. He said Coleman's presence in the Capitol would be an insult to domestic violence survivors.
"It's important that our incoming members feel safe and heard. We strongly support their right to publicly address their concerns, and appreciate their advocacy for domestic violence survivors across Kansas," he said.