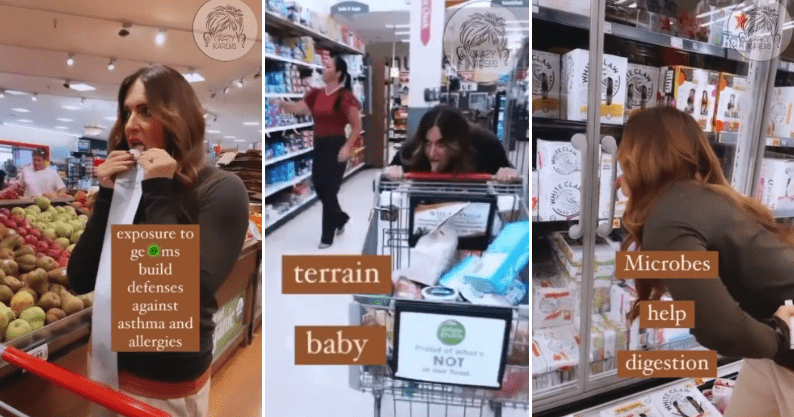 Ladies and gentlemen, I really think that we can all agree on one thing – the pandemic will only last as long as people remain unvaccinated. The anti-vax movement has fueled the vaccination hesitancy causing more deaths than necessary. As of last month, more than 99 percent of recent deaths were among the unvaccinated. Unvaccinated people accounted for over 97 percent of hospitalizations as well. Despite the overwhelming scientific evidence that has supported the fatality of the virus as well as the advantages of getting the vaccine, there are still people who continue to live in and put their ignorance on full display.
An anti-vax, anti-mask mom has brought a new meaning to "going viral." Jodie Meschuk is a self-proclaimed anti-vax advocate who claims to have cured her son's autism. In a recent video, that she has since deleted, Meschuk went around a supermarket licking everything she came across in a very unhygienic attempt to educate her followers about "strengthening her immunity" and to "disprove" viruses.
She can be seen in the video licking the produce bags, the handle of her shopping cart, and the door handle of a storage fridge. She then walked out of the store with her son who probably shot the video for her. 
The caption on the video read: "Germs fortify your immune system. Exposure to germs builds defenses against asthma and allergies. Microbes help digestion." She then told her followers to "be free" and have "love over fear, not law." She also stated: "Oxygen and smiles are life." This comes at a time when the Delta variant of the COVID-19 virus is likely to cause a surge in cases in America. Infectious disease expert Dr. Anthony Fauci has stated that the new variant will likely impact the unvaccinated population the most. The United States will not be going under lockdown to curb the Delta variant but it is predicted to have an impact on the economy nonetheless.
Many social media users called for her arrest and to be charged the same way the girl who licked ice cream from a new container and put it back in the freezer at a Walmart in Texas. She would technically be charged with felony charges of tampering with a consumer product. But Meschuk may not be charged under the same provision, that is, if she's charged at all. It is unclear why she deleted the video or whether Instagram took her video down for violating community guidelines.