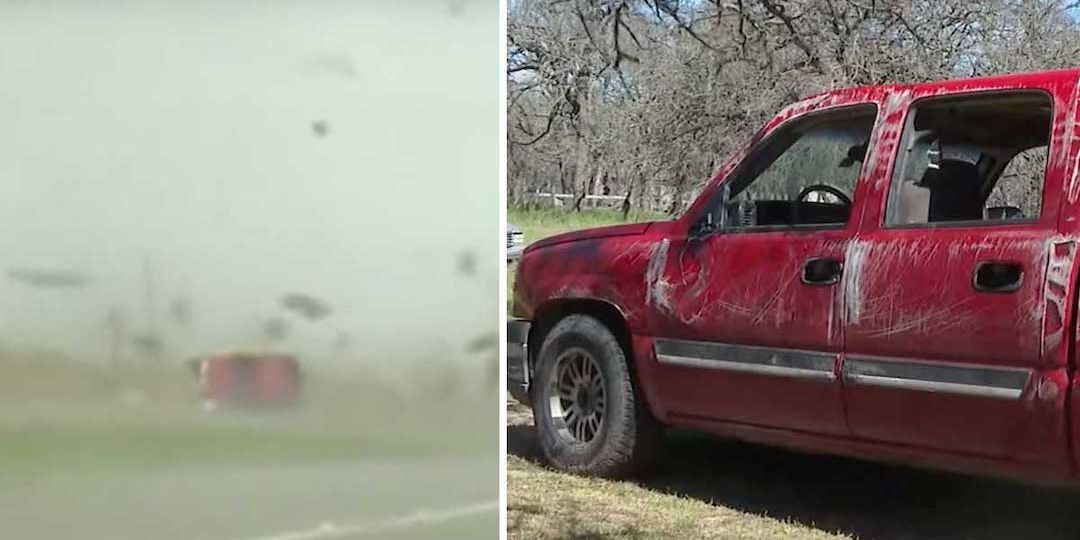 Unfortunately, Monday evening severe weather tore across Texas. At least 20 tornadoes were reported across Texas and Oklahoma Monday night. Heavy damage occurred across central and northern Texas. More than a dozen people were injured, and at least one person was killed. Several tornadoes were reported, including one that flipped a red pickup truck. Within seconds the young driver of the truck found themself face to face with a massive tornado. The terrifying moment was captured on camera and shared on all social media platforms.
What's even more impressive than the person driving away after their truck flipped over and then spun around, is that they escaped with minor injuries.
While the driver of the truck, who is said to be in his late teens to early 20s has yet to be located, the red pickup truck has been found. And it's amazing to see the damage it sustained.
After surviving the tornado, the truck was still drivable, though it did suffer dents and scrapes on its side. The windows were also blown out and the side view mirrors were also gone.
Ruben Briones spotted the red truck shortly after the ordeal. He said the driver was in shock.
"He was in shock; he was crying," he told KXAN. "He told me it was scary."
Commander Aaron Crim spotted the driver on Highway 290 shortly after the tornado hit.
Crim spoke with him and noted that the young man only had a few scrapes on his left arm.
"I asked if he was okay, and he shook his head and didn't really answer me."
After Crim watched the video, which has now been seen over 6 million times, he understood why the driver had a "blind stare."
"I'm sure he was scared to death."
KXAN reported that an off-duty EMT wrapped the driver's arm in a bandage.
The devastating storms continued to cause damage across the southern part of the United States as more tornadoes struck Louisiana Tuesday.
Omg… just going thru my video. This is a story about a red truck and a tornado…. I CANNOT believe they drove away like that. #txwx #tornado pic.twitter.com/8h0nD88xFv

— Brian Emfinger (@brianemfinger) March 22, 2022