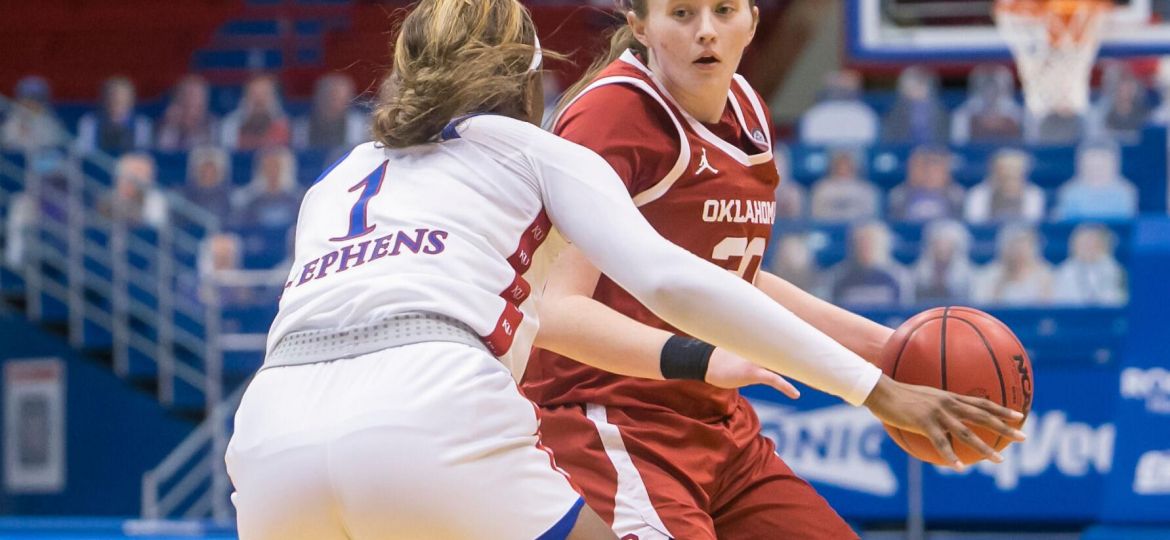 LAWRENCE, Kan. — If the Oklahoma women planned on stealing any victories on the Big 12 Conference road, this was one to grab.
Kansas, after all, finished dead last in the league's preseason coaches' poll, three spots behind OU.
However, in these coronavirus times in which rosters are more who you show up with rather than a list in a media guide, the Sooners arrived with six players total, missing a trio of starters: Madi Williams, Tatum Veitenheimer, Mandy Simpson.
Despite the handicap, OU actually led for most of the first half, taking a one-point edge into intermission.
Yet, eventually, the numbers game caught up to the Sooners. Finishing the game on a 11-2 run, Kansas dispatched OU 74-64.
In Williams, OU was missing its leading scorer, averaging 21.5 points. In Simpson, it was missing its leading rebounder, averaging 11.5 boards.
Just four days earlier, at Georgia, Sooner coach Sherri Coale played all nine of her players. Yet, Thursday, after freshman guard Skylar Vann fouled out in the final seconds, Coale finished the contest with five athletes on the court and none available on her bench.
As it was, freshman point guard Nevaeh Tot, wing Gabby Gregory and shooting guard Taylor Robertson each played all 40 minutes.
The Sooners' last hurrah came with 3:14 remaining when Gregory swished a 3-pointer from the right side, bringing OU within 63-62.
Kansas' Tina Stevens hit a layup on the other end to make it a three-point game, a possession that was followed by six straight empty trips, three for each team.
A 3-pointer from Jayhawk sharphsooter Holly Kersgieter with 1:46 remaining became the dagger the Sooners couldn't afford to allow.
OU didn't score again until Vann hit a layup with 16 seconds remaining.
Gregory led all scorers with 22 points, making 7 of 15 from the field and 4 of 9 from 3-point land. Robertson, Tot and Liz Scott each finished with 10 points.
The Sooners hit a respectable 42.1 percent (24 of 57) from the field, yet managed to make just 7 of 25 from beyond the 3-point arc and 9 of 14 from the free-throw line.
OU's 16 turnovers were a season low, but also twice as many as Kansas' eight.
The Jayhawks shot 40 percent (26 of 65) overall and just 5 of 17 from beyond the arc, but enjoyed a big advantage at the free-throw line, making 17 of 24.
Tina Stephens led Kansas (4-1) with 18 points. Kersgieter added 17 and Aniya Thomas 14. Together, the Jayhawk trio made 18 of 35 shots.
The Sooners (0-3) will be looking for their first win when they play host to Texas State at 3 p.m. Sunday inside Lloyd Noble Center.
Perhaps by then, their bench will be a little longer.