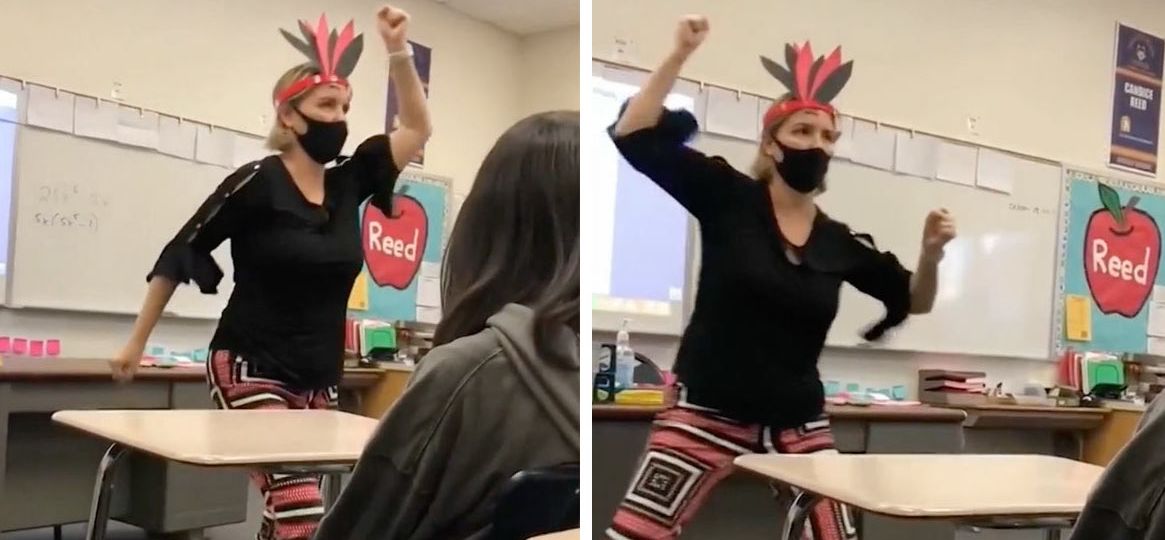 The high school teacher has been placed on leave after a video of her wearing a faux headdress and mimicking Native American culture went viral. The RUSD released a statement calling the teacher's behavior "completely unacceptable" and said her actions "do not represent the values of our district." According to an Instagram post that shared the clip, a Native American student reportedly filmed the video which has since been shared online and gone viral.
The video was taken during a math class at John W. North High School in California.
The student began filming after the teacher spent several minutes "war hooping & tomahawk chopping."
In the video, the teacher can be heard chanting "Sohcahtoa," a mnemonic often used in trigonometry.
She continued to prance around the classroom chanting for several minutes.
"When you have teachers performing like that, in a math class, we're not talking critical race theory here," Dr. Joely Proudfit, director of the California Indian Culture and Sovereignty Center at Cal State San Marcos, said. "We're talking this teacher needs some professional development, some skills training, obviously, some cultural sensitivity training."
The Los Angeles Times reported that a 2012 yearbook photo appears to show the same teacher wearing a feathered headdress.
Besibeth Chavez, a freshman at the school, joined a protest on Thursday in response to the viral video.
"We were shocked, disgusted and disappointed … I didn't think this would happen where we live."
Math teacher at John W. North high school in Riverside, California dons headdress, does what I can only describe as an insanely racist presentation pic.twitter.com/5qPaJPFbcR

— Eoin Higgins (@EoinHiggins_) October 21, 2021