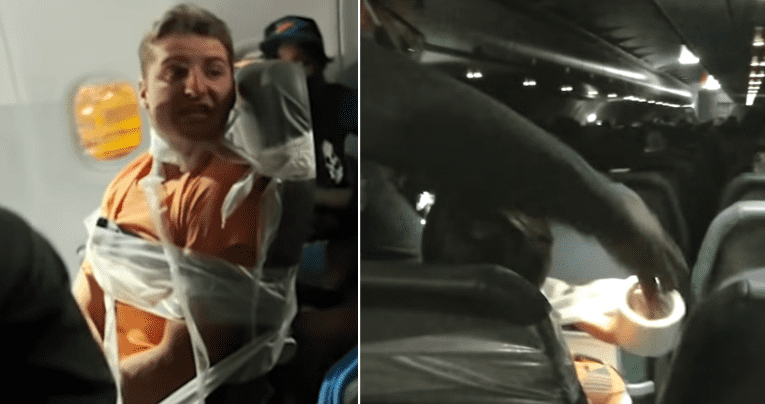 Thousands of feet above the ground, a 22-year-old man caused absolute chaos on a Frontier Airlines flight and had to be duct-taped to his seat to keep him from assaulting others. While traveling on the flight from Philadelphia to Miami, the man named Maxwell had consumed two alcoholic drinks before inappropriately brushing his cup against a flight attendant's body. "Don't touch me," the flight attendant told him.
Then, Maxwell ordered himself another alcoholic drink, which he spilt all over his shirt. That's when Maxwell went to the bathroom and came out without a shirt on, according to details revealed in his arrest report. A flight attendant told Maxwell that he would have to be fully clothed inside the aircraft and helped get an extra shirt out for him from his bag.
For about 15 minutes, Maxwell was wandering around the plane before groping a second flight attendant's breasts. The flight attendant told him not to touch her and asked him to get back in his seat. However, the first and second flight attendants then saw Maxwell approach them and put his arms around them before touching their chests.
A third flight attendant "asked him several times to calm down and remain seated," the police report said. But Maxwell "punched [him] in the face with a closed fist."
Within moments, a flight attendant as well as other passengers on the plane intervened and managed to restrain the disruptive man. They "restrained the defendant and had to tape him down to the seat and tie him with a seat belt extender for the remaining flight," the police report said.
Videos captured by fellow travelers on the plane show Maxwell arguing with others during the entire squabble. "You guys f*cking suck!" Maxwell was heard saying. "My parents are worth more than two million God d*mn dollars!"
Charged with three counts of battery, Maxwell Berry was arrested soon after the flight landed at the Miami International Airport. On the other hand, the flight attendants involved in the incident were initially suspended by Frontier Airlines. However, the airline company later revealed that they support the flight attendants and will help with Maxwell's prosecution.
Image Source: YouTube Video Screenshot