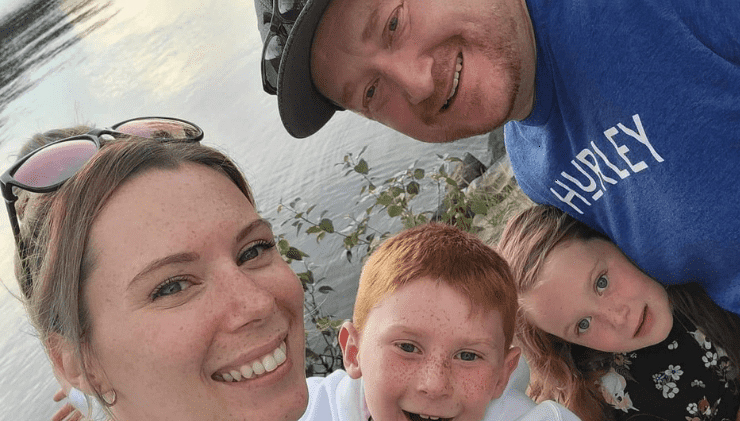 A loving husband and father left for work on Wednesday, but sadly did not return back home alive. The 42-year-old man was picking up some breakfast at around 5:30 am when a fatal accident took place at a local McDonald's restaurant. On his way to work, he had stopped at the McDonald's drive-thru to pick up his meal. There, he dropped his bank card on the ground and then exited his vehicle to pick it up. Unfortunately, his vehicle continued rolling forward and wound up pinning him against the building.
His name is Tony Eyles and he was reportedly caught between the car and the door jam and was crushed to death in the freak accident. He passed away just weeks before his ninth wedding anniversary and is survived by his wife and two children, aged 6 and 8.
"The kids are understandably not fully grasping it. We've just tried to surround them with as much family as we can," said Tony's brother-in-law, Neal Pender.
Neal described Tony as "the kind of guy who would give you the shirt off his back."
"He was just the most doting father and the most loving husband… he was just the perfect guy," Neal went on to say.
"They have made some comments about how much they are already missing their dad," Neal continued. "His son said to me yesterday, 'I only got to know my dad for eight years, it's not long enough.' It's impossible to say anything to him about that other than just reminding him about how awesome his dad was. My sister is struggling, of course." It was only recently when Neal became a father himself, and he was looking forward to seeing Tony building a relationship with his own child as well. "He's just the perfect dad, the perfect husband… I looked up to him," Neal said. "Unfortunately [my child] never got to meet Tony. Tony would have adored that kid and he would have adored Tony too."
Currently, Tony's bizarre death is still being investigated by the Vancouver police.
"He should still be here," Neal said. "They are going to have to do an investigation on this because it just doesn't make sense."
Before the terrible accident, Tony worked as an elevator mechanic and lived with his family. However, he would often make trips to downtown Vancouver for work. His coworkers set up a GoFundMe page to raise funds on behalf of the family. In addition to this, another GoFundMe page was also set up by family members to help the bereaved wife and children. So far, both the fundraising pages together have raised more than 107,500 to ease the family through this tough time.
Image Source – GoFundMe