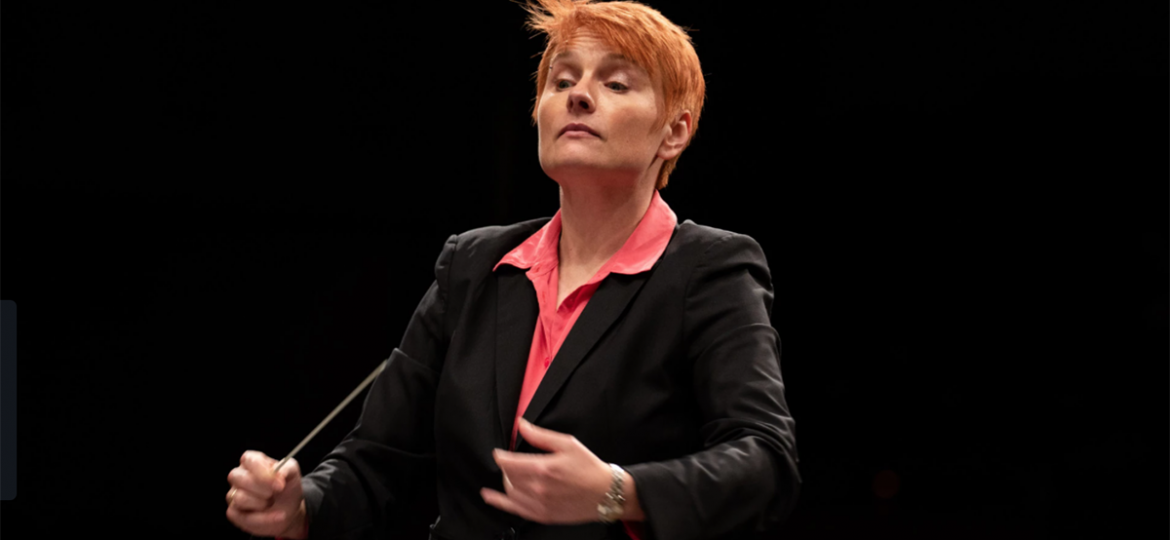 LAWRENCE — The University of Kansas Symphony Orchestra (KUSO), led by Carolyn Watson, conductor and director of orchestral activities, was honored earlier this month with a 2019-20 American Prize for Orchestral Performance (second place, College/University Division) for its performance of Shostakovich's Symphony No. 12 "The Year 1917." The concert took place on the Centenary of Armistice Day on Nov. 11, 2018, at the Kauffman Center in Kansas City, Missouri.Shostakovich's Symphony No. 12 chronicles the dramatic events in Russia in 1917. It was also the year in which the U.S. entered World War I, and the work was the feature work on the KU Symphony Orchestra's Centenary of Conflict concert. Watson described the award as "a great honor, and one which heralds a new era of orchestral excellence at the University of Kansas."
The American Prize for Orchestral Performance is a national, peer-reviewed competition recognizing American Excellence in the Arts. As described on their website, "The American Prize National Nonprofit Competitions in the Performing Arts is the nation's most comprehensive series of contests in the classical arts. The American Prize is unique in scope and structure, and is designed to evaluate, recognize and reward the best performers, ensembles and composers in the United States based on submitted recordings."
Additionally, KUSO placed second in the 2019-20 Ernst Bacon Award for the Performance of American Music (College/University Ensemble Division).
"We are honored to be the only orchestral ensemble amongst the national winners, and to have been awarded for our recording of Jennifer Higdon's virtuosic "Fanfare Ritmico," we are especially delighted," Watson said.
The Ernst Bacon Memorial Award for the Performance of American Music recognizes and rewards the best performances of American music by ensembles and individual artists worldwide, based on submitted recordings. Applications are accepted from professional, college/university, community and high school age solo artists, chamber ensembles or conducted ensembles, competing in separate divisions, and from composers with excellent recordings of their works.