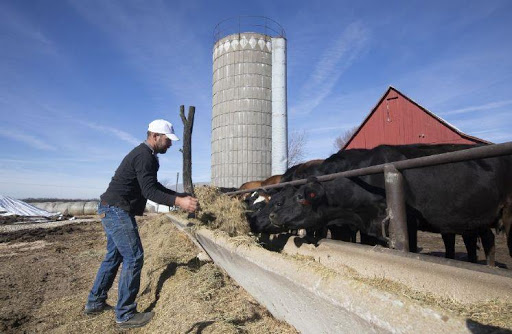 KANSAS –  President Donald Trump carried Harvey County, in south central Kansas, by 20 points. That was no surprise to dairy farmer Jason Schmidt, who voted for President-elect Joe Biden.
"Being a progressive farmer, just about anywhere in the country you're going to be in the minority," said Schmidt, who lives just outside of Newton, the county seat.
While rural Kansas and Missouri overwhelmingly favored Trump in 2016 and 2020, farmers see an opportunity with the incoming Biden administration: for a rational trade policy.
Trump waged costly trade wars with China and Mexico that decimated their profits for much of his presidency. Kansas saw 36 Chapter 12 farm bankruptcies in 2019, the fourth most of any state, according to the American Farm Bureau. The 595 farm bankruptcies nationwide in 2019 marked an eight-year high.
"Interestingly, when I was talking with some of my relatives who are on the other side of the political spectrum they admitted to me that Trump didn't know what he was doing in the trade war," said Schmidt, a member of the Kansas Farmers Union.
Trump's administration offered multiple multi-billion dollar bailouts to farmers to make up for the lost revenue, an initiative that helped him maintain his popularity in farm country.
But even as new trade deals with China, Mexico and Canada took effect during the final year of Trump's presidency and ended the battle of retaliatory tariffs, many farms are still recovering. In 2020, government subsidies are projected to account for as much of 40% of total farm income, a record $46 billion nationwide.
It's not a business model that farmers or lawmakers think is sustainable.
"We'll lose some of that bribery money," quipped Schmidt.
Farmers in the region are hopeful that they'll be able to turn a profit again by selling their crops overseas.
"Trade is vital to our ability to survive. Period. So when we think about whoever is in the White House, this is my No. 1 issue," said Jackie Mundt, a mid-sized farmer near Pratt, Kansas, who grows corn, soybeans, wheat and sorghum, crops which are reliant on export markets.
"We saw it on our farm and we saw it on other farms: There were times when it just wasn't possible to make a profit because there just wasn't a market there," said Mundt, a member of the Kansas Farm Bureau. "We're looking for an administration that aggressively pursues those trade relationships, so we can build those long-term customer bases.
Blake Hurst, the recently retired president of the Missouri Farm Bureau, said he hopes for more consistency on trade under a Biden administration.
He lamented Trump's decision in the first month of his presidency to pull out of the Trans Pacific Partnership, a trade deal with Asian and Oceanic nations negotiated under President Barack Obama. Hurst hopes Biden can broker a similar agreement.
"I hope there's some support for moving forward on that trade deal. We've just been left out. A lot of those countries are moving forward with trade deals on their own," Hurst said.
Sen. Pat Roberts, the retiring Kansas Republican who chairs the Senate Agriculture Committee, tacitly acknowledged Biden's status as president-elect Thursday when he suggested that the incoming administration should rejoin TPP during a wide-ranging interview.
"I know that's very contrary to the current administration, but we have a good possibility for that. When you trade with a country they become more dependent on us," Roberts said. "We have the best quality food supply in the world and then you have a chip to play at the table, so it also helps with world relations and national security."
Donn Teske, president of the Kansas Farmers Union, said warring factions of free traders and protectionists undermined each other in the Trump administration. He expects more stability under Biden.
"It was kind of this internal war between Trump's trade people which made it difficult. I would expect a more stable situation and maybe a more stable administration will lure some of the trade partners back," he said.
While farmers are optimistic about international trade policy under Biden, there's more concern about the environmental regulations he'll pursue domestically.
"I am optimistic about the Biden administration. There are certainly some challenges that keep me awake at night," said Ryan Flickner, the senior policy director at the Kansas Farm Bureau and former staffer for Roberts.
"If the incoming administration wants to revert back to some of those Obama era regulations that is a very significant way to stymie growth in agriculture."
Hurst said that he hopes Biden understands the objections to the Waters of the U.S., a clean water regulation enacted under Obama and rescinded by Trump. The rule expanded the Environmental Protection Agency's power to regulate bodies of water, including agricultural ponds and farm drainage ditches, which created headaches for farmers.
"I don't think you should have a law degree to be able to farm," said Mundt, who praised deregulation under Trump.
"I know climate change is going to be a huge conversation with the Biden administration. We recognize it and support it, but we want to make sure we have conversations about how agriculture can be part of the solution and not penalized for trying to feed people," she said.
Schmidt, on the other hand, hopes Biden pursues an aggressive agenda on environmental issues.
"I would love to see some moonshot funding for research for reducing emissions from cows," said Schmidt, who has 75 dairy cows on his farm. Cattle are a major contributor to greenhouses gases worldwide.