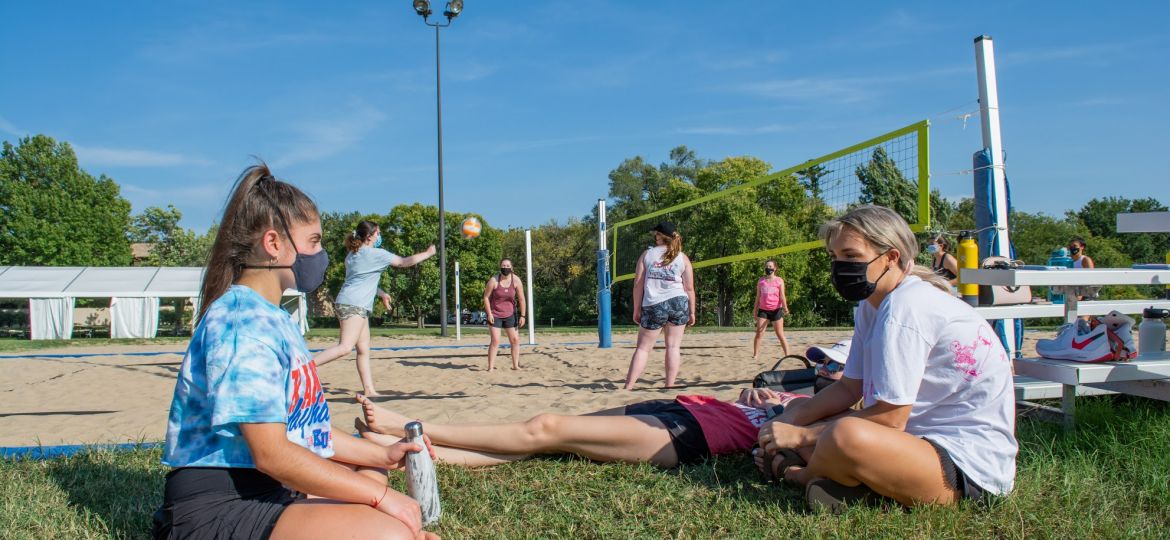 LAWRENCE, Kan. — The fall 2020 photojournalism class in the University of Kansas William Allen White School of Journalism & Mass Communications faced a challenge. The pandemic shut down nearly everything that typically would yield good photography: events, sports, social activities — even just normal life.
So Eric Thomas' JOUR 410 students decided to turn the challenge into opportunity: to document a semester in 2020, the year of the pandemic, the best they could. Now they are turning their project into a book, "The New Normal: A Semester at KU Amid the Coronavirus in 2020."
"It's a good slice of what life was like this semester," Thomas said. From mask-wearing students hanging out at Potter Lake to classrooms seats blocked off, an empty Jayhawk Boulevard, and of course, so many Zoom calls, the students' photos illustrate a year that will forever stand out in the course of history.
Each week, Thomas assigned students a topic, including "Sense of Place," "Composed Portraits," "Student Life," "Campus Life," "An Issue in Action" and others.
Each student then submitted 10 images covering each of the assigned topics.
But while the photos illustrate a campus being turned upside down by measures designed to mitigate the COVID-19 virus, the images also show a hint of normalcy amid the way things had to be altered: students covering election night, a sorority sand volleyball game, an a cappella choir rehearsing.
Faith Keffer, a senior from Gardner and one of the 16 students in the class, said she was excited to be able to record a history of the pandemic for KU alumni and future generations. For her, one of the more unsettling experiences was seeing the once vibrant and busy campus eerily quiet.
"It was shocking to see that this campus is now a ghost town," Keffer said.
Amid the uncertainty, though, Keffer was inspired by the resolve of KU and the city to adjust and create some sense of normalcy out of a global situation that no one had any control over.
"It was interesting to see how the Lawrence community was trying to stay on track," she said.
The $15 book can be pre-ordered here. The proceeds will go toward scholarships for KU journalism students.
Photos, from top right, by KU journalism students Andrea Bates, Sophia Belshe and Phoebe Koruna.