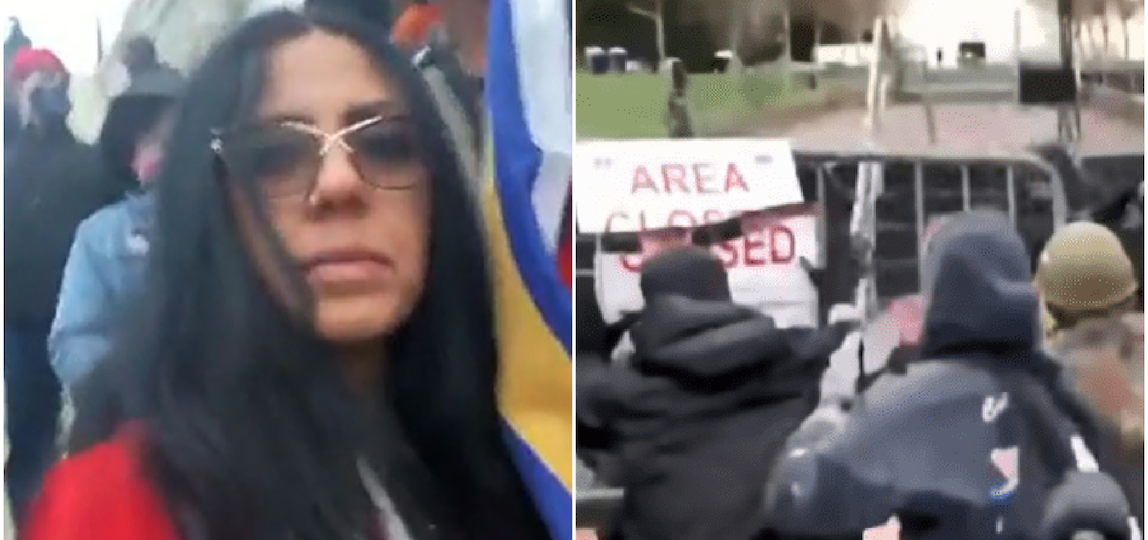 The defendant has been sentenced to 45 days in prison after she entered the U.S. Capitol through a broken window on January 6 and declared, "this is war." On the day of the incursion, the Donald Trump supporter went live on Facebook when she was at the western front of the Capitol. This is where some of the most violent attacks on officials unfolded when the Capital siege took place. As she stood on top of the inauguration platform, she also managed to enter the Capitol building.  
On Wednesday, U.S. District Judge Walton sentenced Mariposa Castro, also known as Imelda Acosta, noting that she didn't seem to have any remorse about inciting violence instead appeared to be happy and gleeful as the riot unfolded. Judge Walton also fined her $5,000 saying that the incursion on January 6 "totally undermined" the peaceful transfer of power from Donald Trump to Joe Biden, per reports.
"I've been reading a couple books about how civil war starts, and so much of history is repeating itself in our country. I love this country, this country has been good to me, and to see what people are trying to do to this country… is just very concerning," explained Walton. Castro seemed to be apologetic for her actions as she tearfully told the judge, "I don't glorify my actions."
"I got caught up on the energy, and if I could go back and change things over, I definitely would have brought more peace," she added. When Walton pointed out that Castro "seemed to be all in" on declaring war on the Capitol, she claimed that "dark energy forces" had "sucked" her when the attack was taking place. Castro's attorney Elita Amato told the judge that her client "made a bad mistake" by making the decision to go to the Capitol in the first place.
Amato added that Castro "got caught up in everything" when she was there and that "She should have left…She had a lapse of judgment, she really did." Back in November, Castro pleaded guilty after admitting to gave recorded herself climbing the U.S. Capitol building on January 6. "I'm going in. I'm going in the Capitol… We're in! We're inside the Capitol house. We got inside the Capitol," she was heard saying in the video.
"War just started. It's just the beginning. As Trump says, 'the best is yet to come,'" she was heard saying in another video. "It was so ugly. It got ugly in there. It got really ugly. I'm literally by myself. They told me not to be on my own, to find a crowd. And I'm by myself. That just shows how brave I am. If I can do this, you guys can do this." In yet another live stream, she declared, "It's a civil war. We're coming. … This is war" after being driven away from the Capitol by law enforcement. 
Prosecutors wanted Castro to be imprisoned for 60 days arguing that she "eagerly joined the Jan. 6, 2021 assault on the United States Capitol" and "exulted at the rioters' success." But Amato described Castro as "a quiet, gentle soul" who began "getting involved in rallies in her community to support police officers, firefighters, and the military during President Trump's run for election."