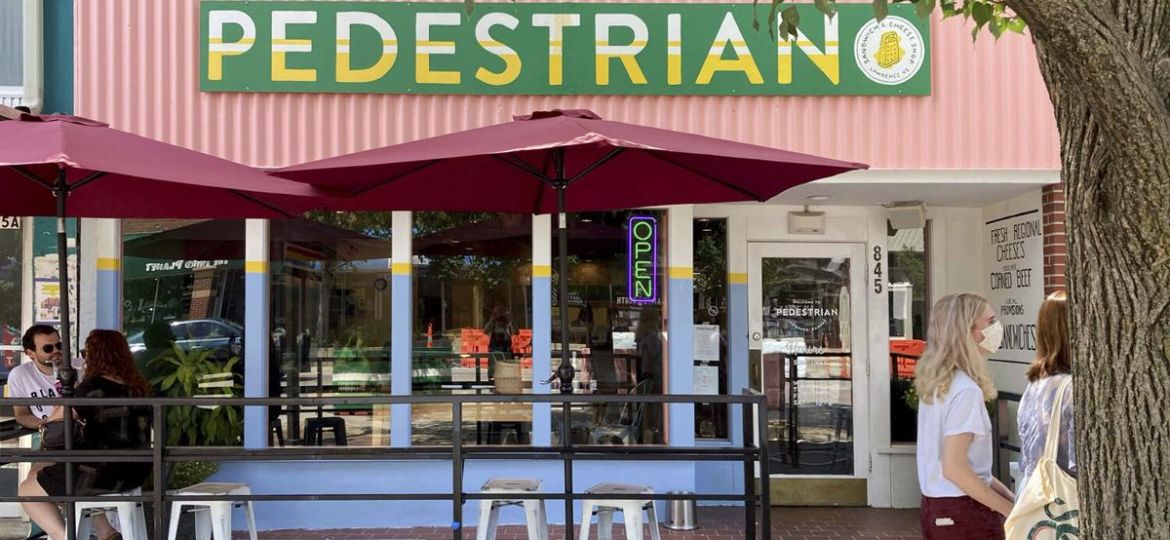 LAWRENCE, Kan. – A fancy new cheese shop and sandwich spot with a common name opened this May in Lawrence, Kansas.
Restaurant industry veterans Holly and David Heitmann hit the ground running with their first restaurant this spring. They quickly morphed their dining room into Pedestrian Cheese, a retail cheese and wine shop with a small market offering delicious cheese-centric sandwiches.
This pivot for Pedestrian was a departure from the couple's original vision of a gourmet cheese shop with a wine bar serving small plates to linger over, but quick thinking helped them successfully navigate the launch of their new cheese shop and restaurant during an unthinkable time.
They nabbed a fantastic spot right in the middle of Massachusetts Street in downtown Lawrence, Kansas, which was formerly home to Luckyberry. Securing the new space in February, they planned to open in April, never realizing the challenges that lay ahead.
"We had a difficult time initially sourcing the kind of quality, handmade cheeses we wanted to sell because the distribution channels weren't working; the product wasn't there," explains Holly. "We wanted to carry cheese not available in local grocery stores and support ones made by smaller farmers and cheese artisans."
Eventually, they were able to get their hands on some great products, and now guests can pick up a bottle of wine, some additional jams, mustards or crackers alongside an excellent selection of locally, nationally and internationally made cheese. Pedestrian's selection is impressive, with 17 cheeses made from cow's milk, nine from sheep's milk and five from goat's milk. There is also a smaller selection of blended milk cheeses and blue cheeses. Not sure what you're after? The staff is happy to offer samples or help guide your selection.
Pedestrian's curated cheese and charcuterie boards, which are made daily and priced between $12 to $22, have also been a popular offering. Guests can sample several cheeses while enjoying a beer, wine or cocktail, and then decide what to take home with them. The shop also offers Instagram-worthy cheese and charcuterie party platters that are able to feed a larger group or family.
Pedestrian's sandwiches carry out well or can be enjoyed on-site at one of a few indoor tables or outside in the parklet seating in front of the restaurant. The menu currently features six sandwiches, including a breakfast sandwich that is available all day and is made with a toasted croissant, fried farm egg, yellow mustard, Provolone cheese and spicy pickled tomato relish.
As someone who has enjoyed cooking and eating vegan food on and off for many years, Holly's menu at Pedestrian really offers more like 12 to 15 sandwiches, as all sandwiches can be made in vegetarian or vegan versions.
"People really love our Reuben sandwich; it's made with my housemade corned beef that takes up to a week to make, that is sliced thin and piled high on top of marbled rye, then topped with 1000 Island dressing, sauerkraut and good Swiss cheese," she says. "For the vegan version, I replace the corned beef with marinated tempeh, that tastes very close to my original sandwich, and I am proud of that."
The pimento bacon burger is another favorite and is a beast between a brioche bun, featuring double patties layered with pimento cheese and bacon finished with mustard and fresh greens. The vegan version has a Beyond Beef burger with rice paper bacon and housemade vegan pimento spread.
The loaded vegetable sandwich changes weekly and offers Holly the chance to really show off her playful and creative ways with vegetables. One week she offered a play on a bagel and lox, using carrot "lox," cream cheese, red onions and bok choy, topped with a dill and parsley herb salad and piled high on toasted marbled rye. Another week the loaded vegetable was a Delice de Bourgogne triple-cream cheese with Baldwin peaches, Speckman honey and rice paper bacon. The vegan version substituted the honey for maple syrup and the cheese with a house mademacadamia nut triple cream spread.
Of course, there is a dreamy grilled cheese sandwich on the menu that features three kinds of cheese. It has Cottonwood Cheddar Reserve cheese made in Durham, Kansas, plus Brie and Provolone with a brown butter-allium spread on a crunchy French baguette. The warm, gooey, cheese pull moment with this sandwich has been carefully orchestrated by the magical selection of these three cheeses used together.
The sides that come with each sandwich range from a bag of chips to a housemade potato salad. But with Holly's deep knowledge of flavors when cooking with vegetables and fruits, the soup of the day should not be missed.
With a full bar located inside, Pedestrian does offer a quaint cocktail menu, a handful of beer and ciders, and a nicely sized wine list with interesting selections from across the globe. All draft wines and beers are only $5 a glass, and there are bottles of wine that can be opened for a $10 corkage fee.