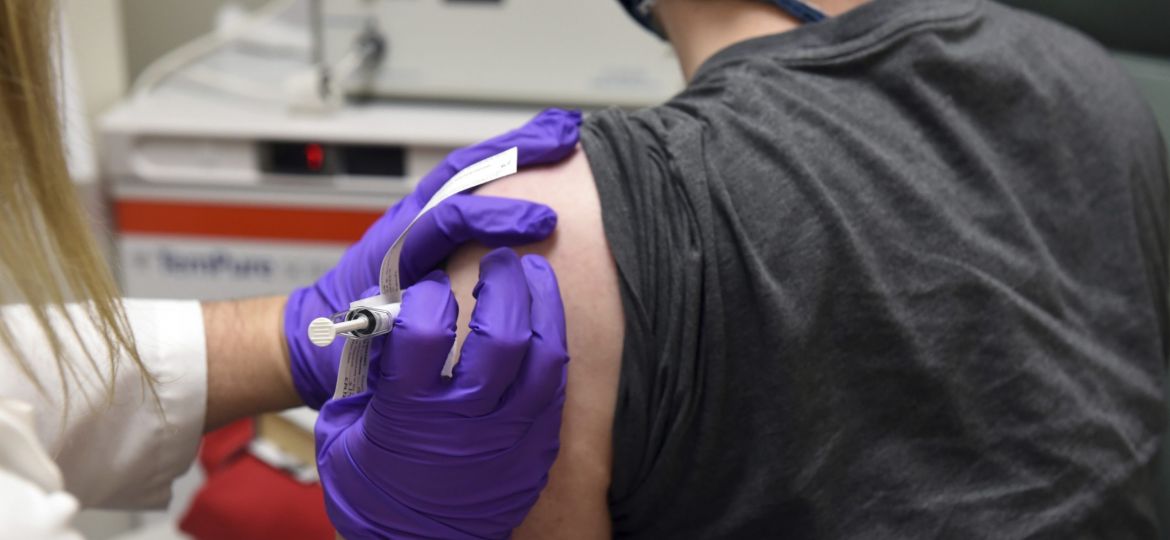 LAWRENCE, Kan. – A leader at Lawrence's hospital expressed disappointment in a local health center's decision not to transfer its incoming vaccine doses to LMH Health, a choice the leader called a "wrinkle" in the vaccine distribution process.
Heartland Community Health Center announced Friday morning that it will receive 1,000 doses of the Moderna vaccine when it becomes available and that the health center plans to administer the vaccines itself, in accordance with Douglas County's tiered strategy.
Lawrence-Douglas County Public Health, on the other hand, has indicated that it will transfer its incoming 300 doses to the hospital, which was the intended distribution site for Phase 1A of the vaccination process in Douglas County, as the Journal-World has reported.
"Despite multiple requests from Unified Command partners and LDCPH for Heartland to do the same, that organization has declined to transfer their allotment," Dan Partridge, director of Lawrence-Douglas County Public Health, said in a news release from the hospital. "Instead, Heartland is working on a new plan to deliver vaccinations to independent healthcare providers and staff in the community."
George Diepenbrock, spokesperson for Lawrence-Douglas County Public Health, said Heartland participated in the vaccine planning process with Unified Command.
When asked how she would respond to those who think Heartland is betraying the county's plan by not transferring its vaccine allocation, Heartland CEO Robyn Coventon said that the original plan didn't include the possibility of Heartland receiving the vaccine.
Unified Command created a vaccination plan that did not directly involve Heartland, Coventon said, based on the understanding that LMH Health and the health department would be the only county agencies to receive Pfizer vaccines. However, as a result of Heartland's status as a Federally Qualified Health Center and an increased supply of Moderna vaccines given to Kansas, the Kansas Department of Health and Environment granted an allocation to Heartland.
"Although this may have come (as) a surprise to local health care partners, Heartland is grateful to be a part of the vaccination response and believes this is an illustration of high-quality care that is provided by community health centers," she said in an email to the Journal-World.
Coventon said that Heartland was one of the first health care providers to modify its operations and launch exterior screening, curbside triage and COVID-19 testing at the beginning of the local outbreak. Heartland's intention was always to be an active participant in the vaccination plan, and KDHE simply accelerated the timeline, Coventon said.
"Heartland has been part of this response from the very beginning," she said in a phone call. "Why in the world would we not want to participate?"
Coventon said there were a couple reasons the health center decided not to transfer the vaccines. Heartland's board met this week and discussed the situation, and members felt strongly that Heartland should maintain and distribute the vaccines itself, she said.
The board's "primary concern was how to honor our mission of welcoming all who need care and how to best engage in the existing community plan to vaccinate Tier 1 employees in our community given the unexpected allocation of vaccines from KDHE," Coventon said in an email to the Journal-World. "The overwhelming take away was that KDHE has a plan to incorporate and include the safety net providers throughout the state through the FQHCs and they want Heartland to equitably participate and collaborate in this critically important role KDHE has asked FQHCs to play."
Coventon also said Heartland's primary care association, Community Care Network of Kansas, encouraged Heartland to maintain its allotment.
Additionally, Coventon said that Heartland would not be able to do a direct transfer to LMH Health, that it would have to go through KDHE, and Coventon said she was concerned that action would negatively affect Heartland's ability to receive future doses.
In response to these explanations, Partridge said that in conversations with KDHE, the local health department has been assured that Douglas County would receive its full allotment of doses, regardless of where they are shipped.
He also said that while KDHE has had to make statewide decisions that did not factor in local plans, he has been in communication with KDHE this week and "they have assured us they will do everything they can to help us execute our local plan."
Brian Bradfield, the associate vice president at LMH Health who is leading the vaccination plan, said in an LMH news release that he was disappointed in Heartland's decision and that the changed circumstance meant there would be new details to work out when it comes to vaccinating LMH Health employees.
"As we adjust to this shift and await a plan from Heartland for these vaccinations, we have informed Lawrence-Douglas County Public Health that we will proceed with distribution of vaccines according to the public health plan," Bradfield said. "This allows us to implement the prioritized plan developed over the past six weeks and approved by Unified Command, despite this new wrinkle that was beyond our control."
Coventon said she understood that vaccination distribution planning was no small task. She said she met with the health department Friday morning and discussed the Douglas County Fairgrounds as a potential vaccination site.
Like the health department, Coventon said she anticipates Heartland will receive the vaccines next week, pending emergency use authorization for the Moderna vaccine by the U.S. Food and Drug Administration. Coventon said Heartland could start the vaccination process by Dec. 28. LMH Health began administering vaccines on Wednesday.
Coventon said Heartland would be vaccinating those who qualify for Phase 1A, handle vaccinations in a safe manner and continue to communicate with Unified Command and the health department. Coventon also said Heartland would vaccinate LMH Health employees who are unable to receive doses from the hospital due to the limited supply, and that other than the location, not much would change.
"At the end of the day, who's administering the vaccination — that's not the critical part," she said. "The critical part is getting them out there."
In the hospital's news release, LMH Health wrote that it had received 800 vaccines intended for employed providers and employees. The release said that the health department would receive 300 vaccines intended for health department staff and first responders and that Heartland would receive 1,000 vaccines intended for health care providers and staff outside of LMH Health.