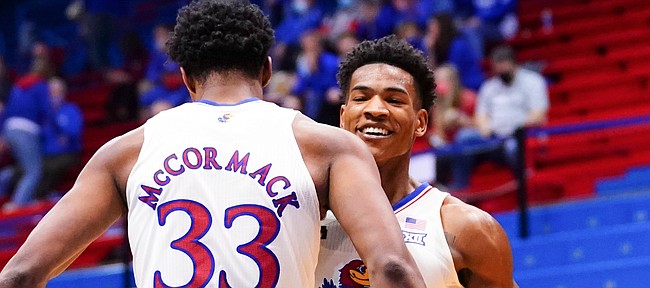 LAWRENCE, Kan. – Everyone who follows the sport knows that Texas Tech's defense can be a problem for opposing offenses. But it's one thing to know it and something entirely different to experience it.
This game marks the first live look at the Red Raiders' defense for KU newcomers Bryce Thompson, Tyon Grant-Foster and Dajuan Harris, as well as leading scorer Jalen Wilson. Sophomores Christian Braun and Tristan Enaruna also are seeing it for just the third time in their careers.
While there are a number of survival methods against Tech's defensive intensity, the No. 1 thing on the list is ball security.
In addition to ranking No. 1 overall in KenPom.com's adjusted defensive efficiency metric, which measures the number of points allowed per 100 possessions, Texas Tech ranks sixth nationally in creating turnovers, forcing giveaways on 30% of opponent's possessions.
When you combine that percentage with the fact that the TTU defense is allowing opponents to shoot just 41.6% from the floor (28th in the country per KenPom), you're looking at a lot of empty possessions on a regular basis.
The Jayhawks have been on the right side of the coin more times than not this season when it comes to turnovers. In addition to limiting their giveaways to just 12.9 per game, KU has committed fewer than 12 turnovers in a game twice this season. The Jayhawks rank 78th nationally in offensive turnover percentage, giving it away just 17.1% of the time.
Ever since Chris Beard arrived in Lubbock, Texas Tech has been known as one of the toughest defensive teams in country.
With relentless ball pressure and a style that emphasizes forcing the opposing offense to do what the Red Raiders want it to do, Tech's D, particularly in the halfcourt, has swallowed up some of the best offenses the Big 12 has seen in recent years.
"To me, it's a typical Tech team that we've seen the last few years," KU coach Bill Self said earlier this week. "They really, really defend."
2. Get hot from outside
In two matchups between these teams last season — both single-digit Kansas victories — the Jayhawks made a total of eight 3-point shots against Tech's defense.
Kansas was 4-of-13 from 3-point range in a 78-75 victory in Lawrence on Feb. 1 and 4-of-17 from behind the arc in a 66-62 win in Lubbock in the last game of the season on March 7.
Four is not enough for the Jayhawks this time around, and Self said this week that he'd like to see his team increase the percentage of 3-point shots from its current mark of 32%.
"That's actually a low number for a team like us," he said. "That number probably needs to be 35-37% in order to maximize our effectiveness offensively."
Even though the Red Raiders are holding opponents to 25.4% shooting from 3-point range (25th in the country), four of Texas Tech's first seven opponents have made more than five triples in a game so far this season.
It's worth noting that none of Tech's opponents have anywhere close to the kind of potent offense that Kansas possesses. In addition to having a strength of schedule ranked in the lower 200s per KenPom.com, Texas Tech has faced just one team ranked better than 123rd by KenPom and that was No. 12 Houston who handed the Red Raiders their lone loss of the season, 64-53 on Nov. 29.
The Cougars hit eight 3-pointers in 24 attempts in that one.
Kansas enters this game shooting 40% from behind the arc on the season, with four players shooting 38% or better and two of those sitting at 44% or higher.
Don't be surprised if, despite the matchup, Kansas elects to play with a big man on the floor most of the time in this one.
Self said Tuesday that playing four guards and a true post player like David McCormack prevents the opposing defense from being able to switch at all five spots, which not only helps KU's guards get good looks and better driving angles, but also allows Kansas to dictate the way the game is played.
3. Push the pace
Speaking of dictating the style of play, KU would do well to push the pace and crash the glass as often as possible against the Red Raiders.
In addition to that strategy leading to easy transition buckets and preventing Tech's defense from getting set, it also could pull the Red Raiders out of their comfort zone a little.
Texas Tech ranks 320th nationally per KenPom.com with an adjusted tempo of 68.2. That's significantly slower than KU's tempo number of 72.9, which ranks 66th in the country, and nearly three points below the national average in the category that tracks an offense's total possessions per 40 minutes.
KenPom has Texas Tech with a two-point edge in this matchup and the Red Raiders enter the game with a win probability of 59%.
What's more, the projected final score of 68-66 features the lowest total for Kansas for the rest of the season.
Marquee Matchup
Kansas defense vs. Texas Tech ball screen offense
Self has always said that Beard's teams run true motion offense better than most teams in the country. And this particular Red Raiders' attack features an offense full of interchangeable parts that can all pass, shoot, move without the ball and find open shots for others.
Self said Tuesday that the Red Raiders' motion offense creates a challenge because, "Tech plays different than most (teams)."
As a result, Self and the Jayhawks spent some time this week analyzing and working on guarding Texas Tech's ball screens in a different manner than they would or have against other offenses.
How that works, and what exactly that looks like, remains to be seen. But if the Jayhawks have success in that area, even if just temporarily, it could help stymie Tech's offense and give KU a huge edge.
Texas Tech's offensive efficiency ranking of 51st sits 27 spots behind Kansas and further illustrates why this one figures to be a defensive battle. Both teams rank in KenPom's top 6 in defensive efficiency.
Georgetown transfer and former YouTube highlight sensation Mac McClung (14.1 points per game) leads a balanced attack that features three TTU players averaging double figures and six scoring 6.3 points per game or better.
As a team, the Red Raiders are averaging 75 points per outing and shooting 44.6% from the floor and 35.5% from 3-point range. But it's not their base statistics that had Self's attention in the days leading up to this one.
"Chris always comes up with something that's a little bit unique that'll give you something to look at or try to surprise you," Self said of his friend and Texas Tech counterpart. "They're one of the teams out there, one of the four or five in our league, that could beat anybody in the country."
Jayhawk Pulse
Self has his questions about his team's readiness for this kind of game this early in the season.
Normally, the Jayhawks have a few more nonconference games that help them find their identity and get their feet under them before heading into conference play. But the KU coach believes that even without that, KU's early-season challenges should have this team prepared for a tough test in Lubbock.
"I don't think anything guarantees much," Self said. "But we have played a good schedule thus far. But we better be prepared, because we're playing two of the best teams in our league right off the bat (KU faces West Virginia in Lawrence on Tuesday), so I guess if we can get these two out of the way, that's one positive thing before Christmas."
KU is looking to extend its conference road winning streak to 10 games in this one. KU's current streak of nine in a row — which made the 2019-20 Jayhawks the first team to ever go 9-0 on the road in a single Big 12 season — currently ranks second all-time at Kansas.
Roy Williams' teams won 11 in a row on the road in Big 12 play during a stretch from late in the 2000-01 season to early during the 2002-03 season.
Kansas leads the all-time series with Texas Tech 37-6 and has won 19 of the last 21 meetings, dating back to 2010. But KU is 4-2 against Beard and company in the last six meetings, with many of those clashes coming down to the wire.
Texas Tech is 3-1 in Big 12 openers under Beard, with all three wins coming in the past three seasons. KU, meanwhile, has won 29 consecutive conference openers, dating back to the 1991-92 season.
The Jayhawks and Red Raiders have met just once to open the Big 12 season. That came back in 2001, when Kansas topped Texas Tech 94-82 in Lubbock.