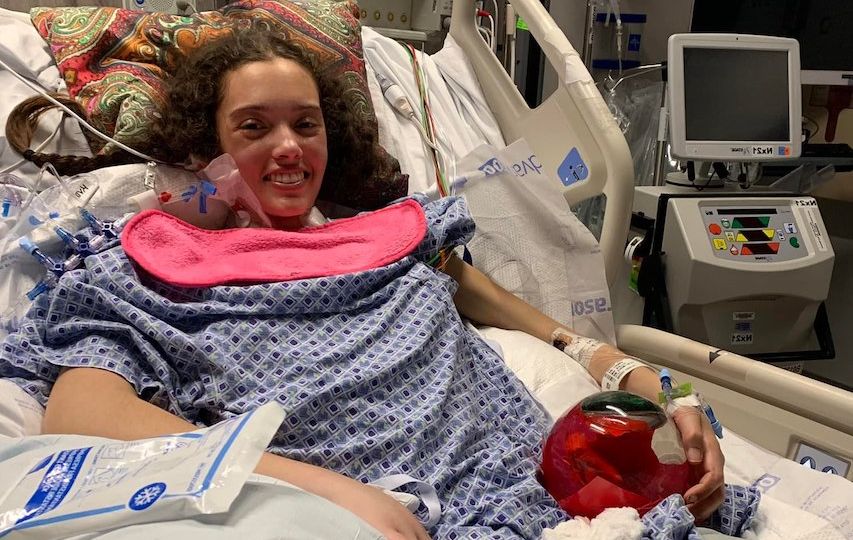 The 21-year-old woman, who was vaccinated against COVID-19 when she contracted the virus and lost both her legs, says she is feeling grateful to be alive. She was reportedly born with a serious heart condition. The young model was rushed to hospital in January after suffering severe leg pain at her family home. Her family said that the young woman was born with a congenital heart condition and developed a life-threatening complication after testing positive for COVID-19. The medical personnel reportedly told them that this caused pressure to build, restricting blood flow to her legs. Due to the lack of blood flow to her legs, doctors were forced to remove them in order to keep her alive.
In an exclusive interview with The SUN, the young woman from Florida, Claire Bridges, said that she suffered medical complications triggered by COVID-19. Bridges, who was vaccinated against Coronavirus, developed a life-threatening complication after testing positive for COVID. Her family also said that Claire's heart stopped just hours after her admission and she was diagnosed with Covid myocarditis, rhabdomyolysis, mild pneumonia, cyanotic and acidosis.
During an interview with The SUN, the young woman reportedly said: "I felt scared during my health battle especially because I had another open-heart surgery coming up. I've managed to cope by allowing myself to lean on my support system and grieve but not allow it to consume me. I remain positive because I'm here, I have an amazing support system and doctors, it could always be worse. When I was told that doctors brought me back three times I just said, "thank you for saving my life". I was shocked but I remember feeling grateful to be alive."
Claire's family has launched a fundraiser to raise money for her medical and ongoing recovery expenses. The family reportedly wrote that the young girl started to feel sick around January 16th when she was unable to walk due to severe leg pains.
Unfortunately, Claire was unable to eat or drink and her organs quickly began to fail. She was diagnosed with COVID-19, myocarditis,  rhabdomyolysis, mild pneumonia, cyanosis and acidosis – all on top of her congenital heart condition, her family wrote.
The 21-year-old woman was then placed on life support when her kidneys began to fail. The medical personnel then performed a fasciotomy, to relieve pressure on her legs. But, unfortunately, this procedure didn't saved her legs and doctors told her that she would need to have both of her legs removed below the knee.
During an interview with The SUN, the young woman reportedly said: "I was aware my legs would be amputated before I went into surgery. All the doctors in my care and my parents all came into my room to tell me what was going to have to happen. After the surgery, I had phantom pains and was in a delirious state. I was still very sick and was on lots of medication, so I don't remember much of what was actually going on.
Since COVID-19, my life has changed drastically, I was highly independent, on the go 24/7, in school, working, whereas now I depend heavily on my support system to do daily tasks. My hopes for the future include me going back to school, modeling, and hopefully being able to help others going through similar situations.
The goal is for me to do everything I did before, plus more, just with prosthetic legs. If anyone is in a similar situation, I want them to know they aren't alone, and it's okay to have your days to grieve but don't let it consume you and sure as hell do not go gently."
Right now, the 21-year-old woman is undergoing rehab at home and will soon start the process of getting her prosthetic legs fitted. Unfortunately, she is still facing heart surgery, but her family says that Claire is resilient, positive and inspiring.
"Our expectations are for a full recovery and Claire gets back to doing what she loves. Claire told me this will not stop her from doing what she wants." her family told The SUN.
Two weeks ago, Claire shared 'life update' on her social media account.
The family wrote on her GoFundMe Page: "Claire was admitted to hospital on Sunday, January 16th, with severe leg pain and Covid. Yes, she was vaccinated! She was then diagnosed with Covid Myocarditis, Rhabdomyolysis, mild pneumonia, Cyanotic, and had Acidosis. Obviously, she was very sick and weak. A few hours later, the ICU doctor called Wayne and said her heart had stopped and they were administrating CPR. The doctor put the Chaplain on the phone, and while he was on the phone with her for an hour and a half she coded 2 more times.
Thank God they were able to revive her. The doctors and surgeons were collaborating on the next course of action for her heart and other organs. Monday morning she was placed on a Tandem Heart and additional life support. Monday evening she was placed on continuous dialysis because her kidneys were failing.
Tuesday morning she had to go back to the operating room to undergo a Fasciotomy, because the pressure was building in her legs and not allowing blood flow. Unfortunately, the damage to her legs is too severe and irreversible, so she is going to lose both her legs. Claire also faces a long and challenging recovery, and our hope is to give her the best resources possible for her ongoing healthcare needs."