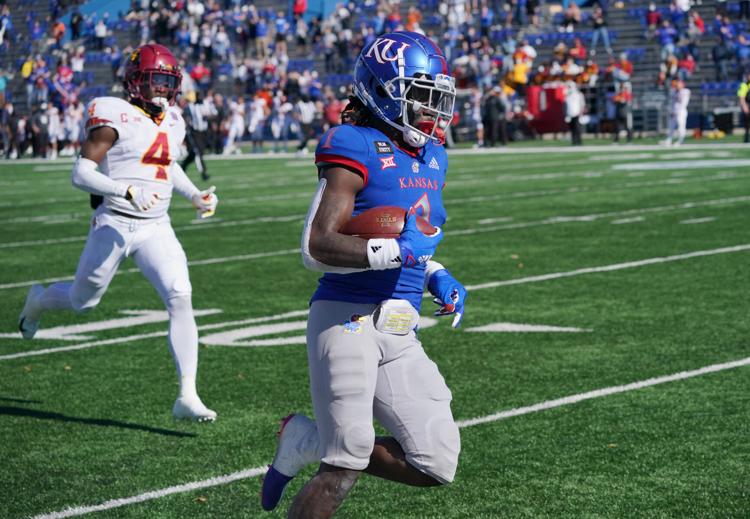 KANSAS – Four Kansas football players were named All-Big 12 Honorable Mentions, according to a release from the conference Thursday.
The Jayhawks selected were freshman cornerback Karon Prunty, sophomore safety/kick returner Kenny Logan Jr., senior wide receiver Kwamie Lassiter II, and senior outside linebacker Kyron Johnson.
In his first season as a Jayhawk, Prunty recorded 26 total tackles, one forced fumble and one interception. The Portsmouth, Virginia, native also finished with 10 pass breakups — tied for first among freshman defensive players in the nation.
Logan emerged as a playmaker this season in the return game, highlighted by his 100-yard kickoff return for a touchdown against Iowa State on Oct. 31. He averaged 39.7 return yards per game, finishing with 345 total return yards this season.
Lassiter led the Kansas receiving corps this season, finishing with 43 catches for 458 yards and two touchdowns. His best game of the season came against TCU on Nov. 28, when he made seven catches for 116 yards and a touchdown, averaging 16.6 yards per reception.
Finally, Johnson provided crucial veteran leadership for the Kansas defense this season. Johnson led the way with 42 total tackles, 4.5 tackles for loss and three sacks. His best game of the season came on the road against Oklahoma on Nov. 7, when he recorded seven tackles, two sacks and one forced fumble.
After Kansas' final game against Texas was canceled due to COVID-19 concerns last week, the Jayhawks finished the 2020 season 0-8 in Big 12 play and 0-9 overall.