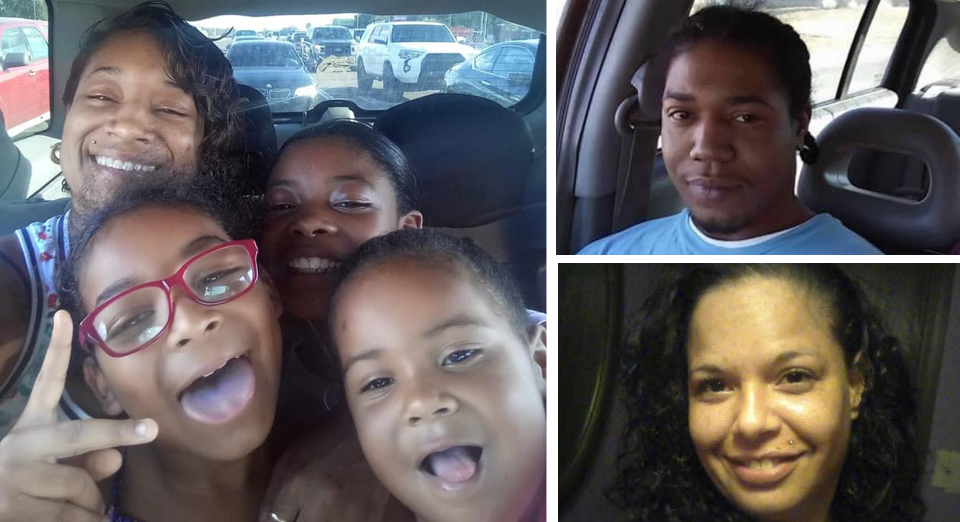 LAWRENCE, Kan. – Anico Kirk, 29; her three daughters, Yamel Kirk, 11, Umariel Lee, 9, and Nah'Liyah Cay, 4; Anico's brother Maurice Ross, 27; and longtime family friend Felecia Harvey, 49, were killed in the crash Thursday evening.
Tony Kirk, uncle of Anico and Ross, and his wife, Lisa Kirk, shared the family's story with the Journal-World from Lakeland, Fla., Monday afternoon.
The family has ties to Topeka, where Tony worked for the police department after serving in the Marine Corps and the Kansas Army National Guard. Before the crash, the six were en route to Topeka, where other family members still live, Lisa said.
Anico had moved just short of a year ago from Topeka to Lakeland, Fla., with the girls, whom Tony described as "phenomenal young ladies."
"They were thriving and growing," Tony said of the girls. "Who doesn't love the Sunshine State?"
Ross and Harvey had flown out from Topeka to visit. Harvey was helping Anico with the girls as they made the drive across the country.
Anico was licensed as a certified medical assistant and wanted to complete her degree as a licensed practical nurse, Lisa said; however, she also had a passion for hair, makeup and beauty. She'd recently taken a break from nursing and gone back to school to get her license as a hairdresser and makeup artist, Lisa said.
Tony said he hadn't had an opportunity to spend much time with Ross lately, but Ross had several children including a newborn baby boy. Harvey was a mother of three and grandmother of four. Harvey had always connected with Tony's mother and was almost like a big sister to Anico and Ross, Lisa said.
Ross got to fly on an airplane for the first time for the trip to Florida, and Anico took him to the beach. He got to see the Gulf of Mexico "and stuck his feet in the water and let the sand squish through his feet," Tony said.
"It's just tough, you know … he got a chance to experience some of those first," Tony said.
Yamel had just won awards for academics after completing fifth grade, Lisa said, and she and Umariel were both doing well in school. "The baby" was going to pre-K soon, and she was "absolutely over the top excited" about it, Lisa said.
"She was definitely the one that wanted to follow in her older sisters' footsteps," Tony said.
Tony said his sister, Anico's and Ross' mother, lost practically her entire family — her only son and daughter and three of her grandchildren.
These aren't the first young lives the family has lost too soon. Tony's son and Lisa's stepson, Kalen Kirk, was struck by a car and killed at age 17 in 2016.
"So this is another reason why it's absolutely unbelievable that we're here four years later for something so unimaginable," Tony said. "It's just totally indescribable. We've lost six family members in four years tragically."
He said you ask why, but you know you'll never get that question answered. He said he wants the Lawrence community to know that the family appreciates the concern and support.
Lisa added, "We believe a community connecting — not just for the bad, but for the good as well — makes the world a better place, and that's what we need right now."
An online fundraiser had raised nearly $6,000 to help with funeral expenses as of Monday evening. The family is arranging services in Florida.
"The girls have established a relationship there," Tony said. "They have a school, and they were popular at their school for the time that they were there."
Tony's mother had just recently purchased a large home to accommodate Anico and her girls, Lisa said, and now they're concerned that without Anico's support she may have to sell the house.
The family was in a Ford Fusion that crashed head-on with a GMC on K-10 near the Iowa Street/U.S. 59 Highway interchange on Thursday evening. Both cars caught fire.
The driver and sole occupant of the GMC was seriously injured, the Douglas County Sheriff's Office told the Journal-World last week. The agency did not have any new information available as of Monday, and the circumstances of the accident were not clear.