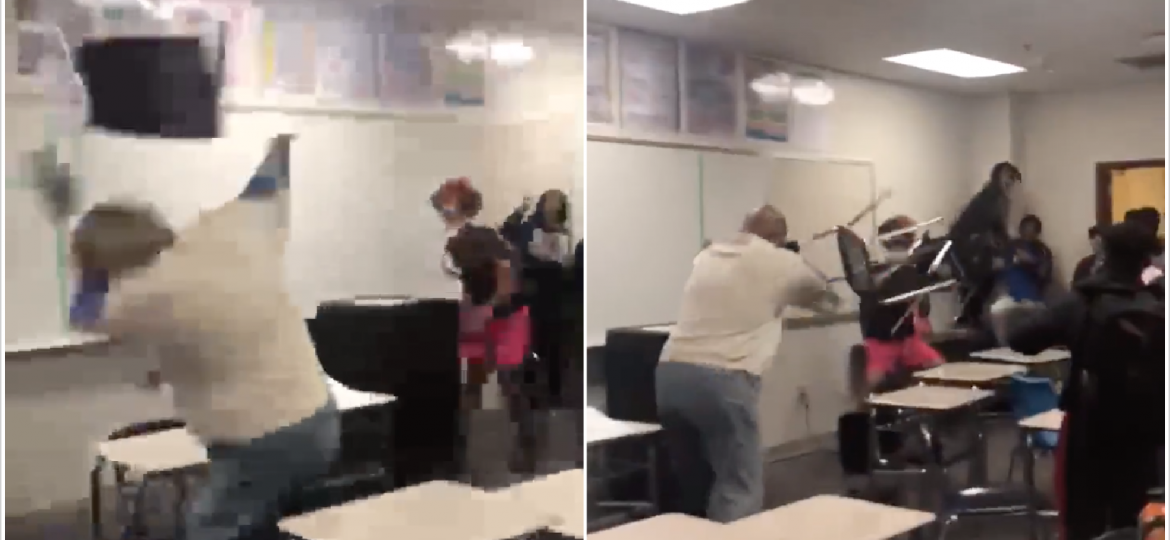 The substitute teacher needed medical assistance after a middle school student threw a chair at him and hit the teacher's head. The educator reportedly responded by throwing two chairs at the student. In some videos, only the male teacher is seen throwing the chairs at the student amid the chaos in the classroom, but the school district officials confirmed that the student attacked the teacher first.
This incident occurred on Wednesday at the DWMS in Texas. Representative from the school district official reportedly confirmed that the student attacked the teacher first. Per reports, this unfortunate incident was recorded from different angles by students.
The video of the incident revealed the chaos that ensued during the chair fight. In one of the videos, the teacher is seen rifling to get a chair before throwing them at the student.
Dr. Larry Lewis, interim superintendent of schools at the DISD of Texas, confirmed the altercation that occurred on Wednesday between several students and the substitute teacher.
After he was hit in the head, the substitute teacher retaliates by throwing two chairs of his own, both missing the student, per reports.The substitute teacher then sits down and wipes his face and head. Amidst the chaos, the rest of the kids in the classroom are heard screaming and laughing.
In a Facebook statement by the local police department, they said: "All sides of the incident are currently under investigation. In response to the videos, tomorrow there will be a larger police presence at the school to prevent any further incidents. The safety and security of the children and staff members is a top priority."
According to the school officials, the students initiated the attack, and injured the sub to the point of ambulance being called to the scene.
The school's safety consultant and former Dallas ISD chief, Craig Miller, reportedly said: "The student will face serious assault charges based upon the angle that I saw in the video. It could very well be an aggravated assault, which also then could be enhanced, possibly because it happened to an educator in a school environment."
INSANE: A teacher and students get into a fight in a Dallas middle school and throw chairs at each other pic.twitter.com/fhaqgEzIu9

— Libs of Tik Tok (@libsoftiktok) March 11, 2022