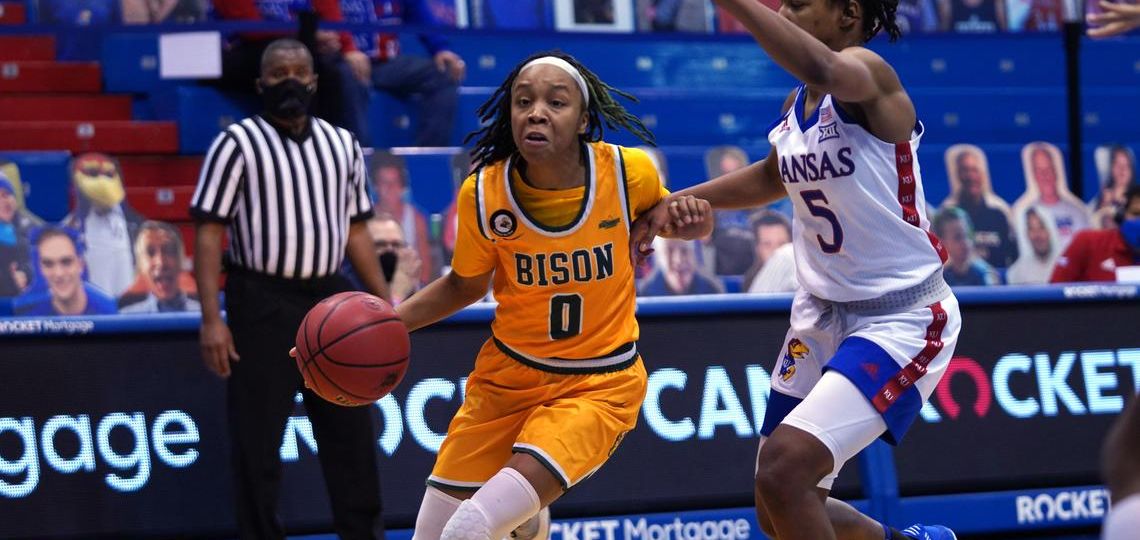 KANSAS — North Dakota State senior Emily Dietz heard the Bison bench counting down the shot clock late in the game Monday afternoon at Allen Fieldhouse.
In that moment, Dietz went with what she knew best.
The 6-foot-3 forward gathered and sank a short hook shot at the shot-clock buzzer to give NDSU a five-point lead with a little more than a minute remaining. That clutch basket helped lift the Bison to a 72-69 victory against Kansas in NCAA Division I nonconference women's basketball.
"We didn't have very much time left so I had to get a shot off," Dietz said. "I'm really comfortable going to my hook shot and I just trusted that. That was the one I was going to take."
The Fargo Shanley graduate finished with 11 points and six rebounds to help the Bison overcome a slow start against Kansas, a Big 12 Conference member that held a 13-point lead after one quarter. The Bison earned their first victory against a Power Five conference school since Dec. 22, 2006, when they knocked off the University of Minnesota.
"It's huge," Dietz said. "Playing (against) a school that's at that level, it's always going to be a tough fight. It's just incredible the way our group came together and followed the game plan and ended up being resilient in the end."
The Bison (5-1) completed their nonconference schedule against Kansas with their only loss coming at No. 24-ranked Iowa State, which also plays in the Big 12. NDSU starts its Summit League slate Jan. 2 on the road against Western Illinois.
"We feel really good about our nonconference," Dietz said. "We feel really good about where we're at. We have a lot of confidence stepping into Summit League play coming up here in January. We are not satisfied with anything. There's always room to grow."
Bison head coach Jory Collins likes where his team is trending heading into January.
"I'm very pleased with our team. We're still trying to find an identity," Collins said. "I think our mental toughness has been good. We've been down in some games and been able to battle back."
The Bison took the lead for good against Kansas with less than four minutes remaining. Sophomore forward Ryan Cobbins used a slick behind-the-back dribble to free herself up for a layup that gave NDSU a 64-63 edge with 3 minutes, 40 seconds to play in the fourth quarter.
"That's the best move I've seen her make yet," Collins said.
Cobbins, from Kansas City, Kansas, added two free throws to push that lead to 66-63 with 2:46 remaining. That set the stage for Dietz's key basket.
With the shot clock winding down, Dietz mishandled a pass in the post, but recovered the ball near the baseline. She then turned back toward the lane and made a hook shot over a Kansas defender to give the Bison a 68-63 lead with 1:12 remaining.
"I thought she did a great job of being really patient and kind of getting to her spot," Collins said. "She's got great touch with both hands and was able to score over a good defensive player. It was a big basket for us."
Dietz added a free throw that gave NDSU a 71-66 lead with 14 seconds to play. Prior to that, sophomore forward Marie Olson made two foul shots that gave the Bison a 70-66 lead with 19 seconds to play.
The Jayhawks cut the Bison lead to 71-69 after Julie Brosseau sank three free throws with 11 seconds remaining. Cobbins countered with 1 of 2 foul shots with 10 seconds to play for the final margin.
Sophomore guard Heaven Hamling paced the Bison with 14 points and five assists. Olson had 11 points and a team-high eight rebounds. Kansas built an 18-5 lead after the first quarter as NDSU shot 13% (2 of 15) from the floor in the opening 10 minutes. The Bison countered with a 24-point second quarter that cut the Kansas lead to 30-29 at halftime.
In their game before Kansas, the Bison shot 0% (0 of 16) from the floor in the first quarter against the University of North Dakota, trailing 13-7 after 10 minutes. They rallied for a 74-67 overtime victory in that game.
"We've got a young group so there's lots of people that can improve at a lot of different things," Collins said. "We have several people that are making really good jumps every time they get more experience. I'm excited about what they can turn into."