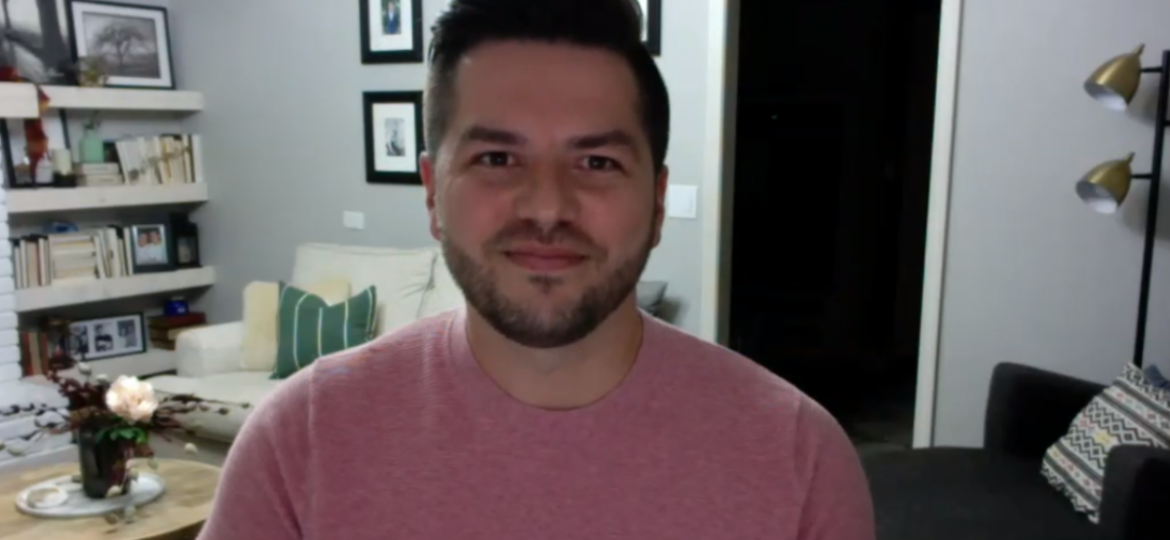 LAWRENCE, Kan. – Like many of us, Christopher Villarreal has spent a lot more time at home during the COVID-19 pandemic.
"My home became 1800 square feet that now had the opportunity to serve as more than just a place to sleep," Villarreal, an Ed.D. student in educational administration, said. "I got to eat every single meal of every single day at home. I got to pretend my home was totally the same as the movie theaters, concert venues, bars, and restaurants I normally frequent. I got to exercise in my basement where I would pretend to kickbox an imaginary punching bag."
Of course, Villarreal's home also became his office. In Villarreal's TEDx KU Edwards Campus talk on Nov. 5 titled "Decluttering Your Space to Declutter Your Mind," he spoke about our collective desire to create the ideal home workspace during the pandemic, and how keeping a clutter-free space is also key to maintaining healthy productivity.
Villarreal cited a 2011 study conducted by the Princeton Neuroscience Institute that examined the connection between visual stimuli and distraction. "At this exact moment, everything that you can see in front of you and peripherally is taking up space in your brain," Villarreal said. "More than that, it's competing for your attention and distracting you from focusing solely on this talk."
Villarreal said a 2010 study from UCLA further explored the connection between clutter, home cleanliness and mental health. "Participants who described their homes as messy, unorganized, trashy, unfinished, or cluttered had increased feelings of depression over the course of the day," Villarreal said. "Participants who used descriptors like relaxed, calm, comforting, and peaceful had decreased depressed mood over the day."
WANT TIPS TO ADVANCE YOUR CAREER?
Villarreal shared his strategy for creating a decluttered space that's more conducive to productivity by creating mental sorting bins related to obligations — tasks you have to get done — and priorities — tasks that may be important, but you aren't required to complete immediately. "Recognizing your obligations and priorities requires introspection on your part to determine if something is an obligation, priority, or maybe both; and to determine what needs to be done first," Villarreal said. "Make a to-do list and order the tasks by necessity and immediacy. Motivation breeds motivation, so checking off even the smallest of tasks will help you be more productive."
Once you've defined your obligations and priorities, Villarreal suggests organizing your workspace according to those needs. "If there are items that represent one of your priorities or obligations, keep them in your space. Physically organize them so the most pressing items are most visible," Villarreal said. "We focus on the things we can see. Chances are, you have some stuff in your workspace that does not serve a purpose or represent a task."
The idea of decluttering your space feels daunting, Villarreal recommends starting small and giving yourself grace, rather than trying to get everything picture-perfect the first time. A healthier and more productive environment will follow in time. "Instagram is not real life. Pinterest is not real life," Villarreal said. "Be satisfied with the progress you make. Shift your mindset to be motivated by progress instead of perceived perfection."