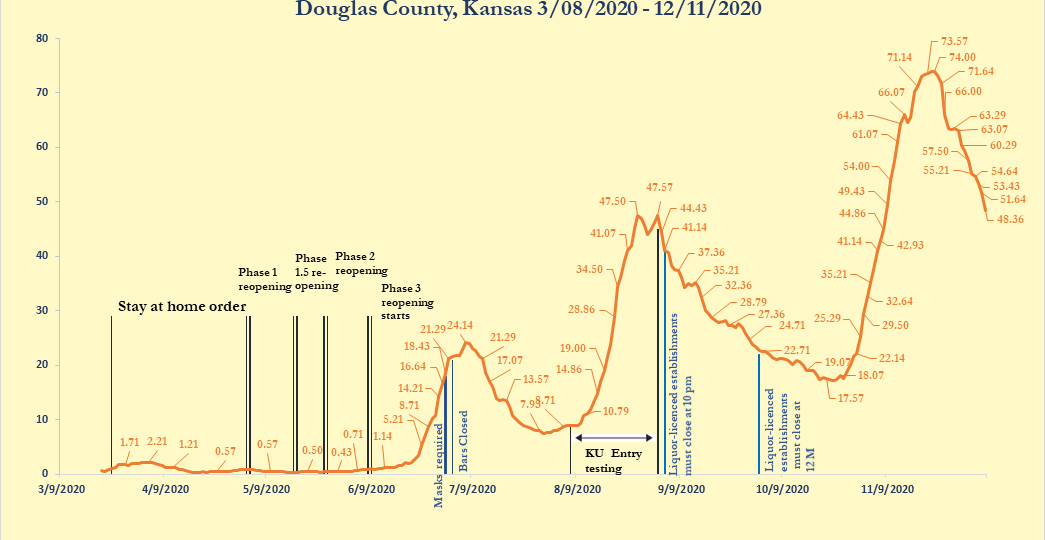 LAWRENCE, Kan. – Douglas County's health department and the local COVID-19 Unified Command team released a new epidemiological dashboard Friday to provide more data about virus cases within the community.
The dashboard is on the health department's website, ldchealth.org, and will be updated each weekday. While the county has provided daily updates with some virus statistics, the dashboard will provide information that the county hasn't shared before, such as the county's COVID-19 incidence rate, the percent positivity rate by city and the percentage of emergency department visits where patients reported COVID-19-like symptoms.
The incidence rate shows how many people per 100,000 county residents tested positive in the past 14 days, and the positivity rate shows the percentage of tests done over the past 14 days that came back positive. According to the dashboard, Douglas County currently has a COVID-19 incidence rate of 567.39 per 100,000 people. The dashboard also shows that Eudora is the city with the highest positivity rate — in the past 14 days, 7.9% of virus tests in Eudora came back positive. In Baldwin City, the positivity rate was 7%; in Lawrence it was 6.1%; and in Lecompton it was 5.8%.
The dashboard also features some specific demographic information that will be updated once a week, including case breakdowns by age, sex, race and ZIP code.
"We are excited this dashboard is ready as another tool to communicate with our community and give them information about how the COVID-19 pandemic is affecting all of us," said Sonia Jordan, Lawrence-Douglas County Public Health's director of informatics. "It gives an opportunity to present more data and provide context, particularly about how COVID-19 is affecting our community members by race and ethnicity. These perspectives will be important, particularly as all work together to address health disparities that COVID-19 will exacerbate."
The dashboard also includes information that has appeared in the county's daily COVID-19 updates before, such as the 14-day moving average of new cases, Douglas County's cumulative case count and the numbers of new cases, active cases, hospitalizations and deaths.
Douglas County reported 5,512 cases of COVID-19 as of Friday, an increase of 50 cases since Thursday.
In Douglas County, 4,457 out of the 5,512 cases are inactive or beyond the infectious period, according to Lawrence-Douglas County Public Health, meaning 1,055 cases are active.
The county has averaged about 48 new cases per day over the last 14 days, according to a 14-day moving average graph updated weekdays by the health department. The current average of 48.36 new cases per day is down from a recent high of 74 cases per day in mid-November and up from a recent low of 17 cases per day in mid-October.
Twenty-four patients at Lawrence's hospital had COVID-19 on Friday, one more than Thursday. Of those 24 inpatients, 16 have active COVID-19 cases and eight are recovering. Twenty-nine Douglas County residents have died of the virus.
To sign up to receive the new dashboard updates each weekday, go to bit.ly/37RKBuJ.
Two new cases at Lawrence Presbyterian Manor
Two employees at Lawrence Presbyterian Manor have tested positive for COVID-19, according to a news release from the assisted living facility.
Lawrence Presbyterian Manor has been doing surveillance testing biweekly, and the two positive cases were detected in testing done on Monday and Wednesday. One of the employees is an essential health care worker who last worked on Nov. 29, the release said; the other employee does not work in a direct care role and had not worked since Nov. 23. Both employees were screened before their shifts and wore personal protective equipment while working.
Next week, the assisted living facility will move from biweekly to weekly surveillance testing because of the county's positivity rate.