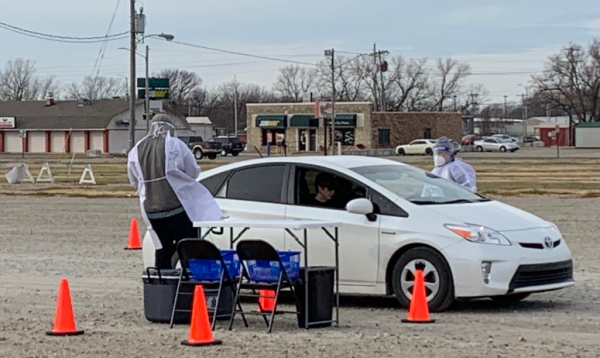 KANSAS – Several categories of complaints have arisen as part of the first day of a new coronavirus testing option in Lyon County.
Residents have told KVOE News about long wait times — at times 90 minutes or more — after driving to the Fairgrounds for free tests. They have also said they were turned away if they decided to drive up without setting up appointments online through www.GoGetTested.com/Kansas, even after a news release issued earlier this week said drive-up traffic would be accepted. On top of that, they have said the nature of the test changed from a mouth swab to a saliva spit. A response is currently pending.
Turnout was heavy at the Fairgrounds for the first day of this new venture as part of the state's unified testing strategy to get more Kansans tested for COVID-19 by the end of the year. Lines at times were 40 to 50 vehicles deep, prompting organizers to expand from one traffic lane to three to speed up the process. There is currently no word on how many tests have been administered.
Testing continues from 9 am to 5:30 pm Saturday. Testing will resume Dec. 21-23 and will conclude Dec. 28-30.
The GoGetTested.com/Kansas COVID-19 testing site is now up and running at full force in Lyon County.
The Lyon County Fairgrounds parking lot was jam-packed full of residents seeking a coronavirus test at the new drive-thru site Friday morning. The testing line saw as many as 40 cars in line at one time through the morning hours.
The site is part of the state's new campaign encouraging residents to get tested for coronavirus and does not require medical necessity for residents to receive the oral swab test like previous testing efforts. The tests are completely free to those wanting them with results anticipated between 48-96 hours.
The testing site will continue until 5:30 pm Friday and will run from 9 am to 5:30 pm Monday through Wednesday and will not be active during Christmas Eve and Christmas Day. Testing will resume next Saturday and will wrap up Dec. 28 through Dec. 30.
Residents wishing to receive a test will not be able to have food, drink or tobacco 30 minutes before their tests.Drivers will need to enter on the south side of the Fairgrounds using the US Highway 50 entrance and leave by using the 12th Avenue entrance. Residents can go online to www.GoGetTested.com/Kansas to schedule appointments, which are preferred but drive-ups will be welcomed.