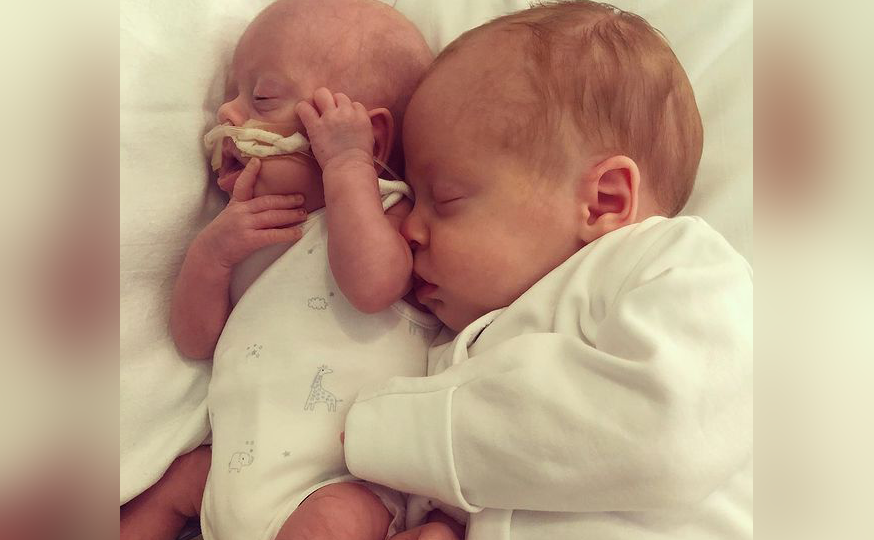 After constantly being told that he wouldn't survive, the 32-year-old mother is watching her premature baby beat the odds and fight for his survival in the hospital. The little Chester Graves and his twin brother, Otis, were born 28 weeks prematurely. While his twin brother weighed 3lb 7oz at birth, he weighed three times less with a weight of only 1lb 1oz. The newborn babies were starkly different in size, and the infant began a miraculous fight against all the many complications he had at birth.
Right after the boys were born, they had to be separated. And the little ones had to wait another 10 weeks before they could finally reunite. Although they had to spend months apart, they evidently had an unbreakable bond because Chester couldn't get enough of the cuddles from his twin brother when they met.
"I have no doubt that cuddles with his twin has helped him keep fighting," their mother, Kelly Graves, said.
"The twins finally met for the first time since being born on September 22, which was incredibly emotional," Kelly continued. "It was everything I was waiting for, and although Otis was asleep, Chester was obsessed with him and couldn't take his eyes away from his brother."
The family hopes that they will soon be able to bring Chester back home so he can spend all his time bonding with his twin brother, Otis, as well as the rest of the family. However, doctors believe that Chester will have to spend at least another two months in the hospital.
"We are so lucky that Chester is a fighter and despite everything he has been through, he is still fighting in order to come home and be with his parents, Otis and the rest of the family," Kelly said. "He is still being incubated and kept on high flow oxygen since being transferred back to our local hospital in Southend. We cannot wait to finally get Chester home. We are hoping to bring him back in November."
For the mother, the whirlwind pregnancy with plenty of ups and downs began right after she got the results of her 16-week scan. The scan showed that her twins were of different sizes because of a condition called Selective Intrauterine Growth Restriction. Because of the condition, Chester was not getting enough nutrients from the placenta, and this was hindering his proper growth.
As the pregnancy progressed, "I was being told at every scan that he may not survive which was heart-breaking," Kelly added.
When the 32-year-old mother was 28 weeks into her pregnancy, her water broke and her premature twins were born. Otis was eventually able to go home, but Chester had to stay back and continue being monitored by doctors.
"It is very bittersweet because we have Otis at home now and everyone says how nice it must be, but it's also horrible because we can't feel complete until both babies are back together… He has to gain a further 255 grams still and will most likely be on low flow oxygen when he's home, but we are hoping in around a month or two he can finally meet the rest of the family."
Parents reveal how baby born weighing just 1lb has 'kept fighting' thanks to cuddles from twin brother https://t.co/P0xfAu0doU

— Daily Mail Online (@MailOnline) October 5, 2021
Image Source – miracletwins_plus3/Instagram