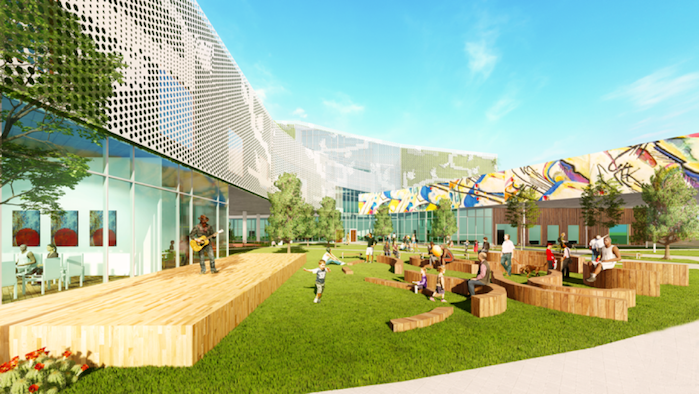 LAWRENCE – Two students in the University of Kansas School of Architecture & Design were awarded a 2020 Healthcare Environment Award in the student Graduate Project category.
Samia Mansour, of San Marcos, California, and Juhyun So, of Overland Park, were both students in the Spring 2020 Health + Wellness Design Capstone Studio, led by Hui Cai, associate professor of architecture.
Their project, "NOLA Behavioral Health Inpatient Facility," is a proposed 48-bed behavioral health hospital adjacent to the University Medical Center in New Orleans that provides a home base to offer a full range of behavioral health services.
The students' research revealed a high concentration of behavioral health issues for all age groups in New Orleans, with each group having its own behavioral health concerns. Moreover, a high percentage of the homeless population in the area suffer from behavioral issues, such as substance abuse. The KU students' project addresses the needs across underserved user groups by providing three 16-bed inpatient units (geriatric, adult, adolescent), an outpatient behavioral health service for working parents and adolescents in school, and a homeless rehabilitation center. It integrates nature, music, arts, nutrition and physical activities in the holistic healing process for mental health recovery.
The Center for Health Design, in partnership with Healthcare Design magazine, celebrated the 2020 Healthcare Environment Awards recipients during a virtual celebration last month.
The Healthcare Environment Awards recognize how design can improve safety, enhance experiences, increase organizational efficiency and improve any number of outcomes, according to the award website.
The Health + Wellness Capstone Studio is the final studio for graduates in the architecture department's Master of Architecture Health & Wellness option. The curriculum allows students to integrate all aspects of their previous coursework, internship experience and professional interests.
Image: Rendering of NOLA Behavioral Health Inpatient Facility central courtyard.