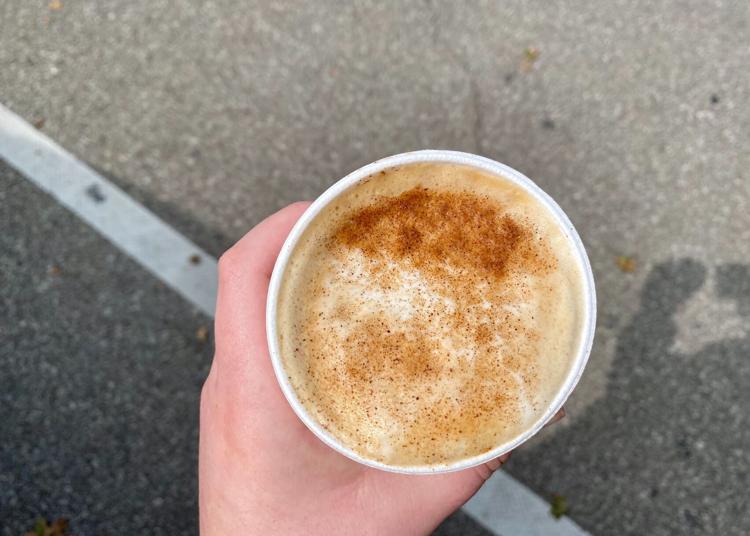 LAWRENCE, Kan. – It can be easy to feel unmotivated and stuck in a rut while social distancing, but sometimes visiting a coffee shop can be a simple fix to boost your mood. Here's a few coffee shops open right now offering specialty fall drinks for the colder weather:
J&S Coffee
4821 W 6th St.
If you are looking for a cozy spot with plenty of seating and endless drink combinations, J&S Coffee is ideal for you. There's plenty of seating inside as well as outdoor seating at a safe distance.
In addition to a vast menu, J&S offers several specialty fall drinks, including Bekah's Brew, an espresso-based drink made with cinnamon, brown sugar, hazelnut and caramel, served up hot. This drink tastes like a caramel apple meets coffee and is full of the best flavors of fall coffee. If you aren't a huge coffee drinker, I think you can barely taste the espresso among the plethora of flavors. To me, this drink is like the perfect fall candle, exhibiting a blend of fall feelings. I definitely recommend ordering this drink hot for its full effect.
How to order: Storefront (outdoor seating available), takeout
La Prima Tazza
638 Massachusetts St.
I hate the taste of anything and everything pumpkin spice, but I was compelled to at least give a pumpkin spice latte another chance as it's a staple fall drink. I can assure you — La Prima Tazza did not disappoint.
In fact, I may be a little more open to trying more pumpkin flavored coffees in the future. It's just enough pumpkin to taste, but it's certainly not overwhelming. I ordered it hot and asked for a dash of cinnamon on top. I definitely recommend it for anyone looking for an alternative to the typical Starbucks run for a PSL.
How to order: Takeout
Uplift Coffee
624 N. 2nd St.
Not a huge coffee fan? This drink is for you. I tried out one of Uplift Coffee's signature fall drinks, the Chaider: chai concentrate plus apple juice. It is basically apple juice made for tea lovers. I ordered the Chaider iced, which made it a prime combination of refreshing, but still consists of signature fall flavors like apple and cinnamon.
If you are looking for the cutest outdoor patio to do homework or relax, look no further. Uplift has several tables in a back area covered by trees. It's fall heaven.
How to order: Storefront (outdoor seating available), takeout
Z's Divine Espresso
2351 W. 31st St.
Z's Divine Espresso is not only convenient because of its speedy drive-thru, but it's simply good coffee.
I ordered an iced Snickerdoodle Mocha, which is made with white chocolate, cinnamon and vanilla. This drink managed to balance a delicate espresso taste with sweet tones that felt like they came straight from a bakery. None of the flavors were overpowering in the drink. The overall flavor of this mocha reminded me of the iconic fall sugar cookies you can buy at the grocery store that have pumpkins or ghosts on them. A Snickerdoodle Mocha is the ultimate order for someone looking for a fall drink that doesn't include pumpkin or caramel.